Top And Best Cotton Simple Blouse Designs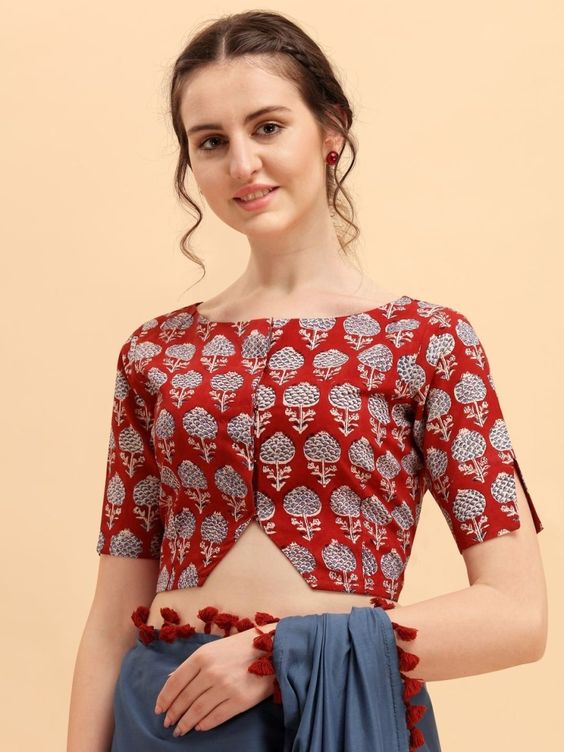 Millions of women get solace in the extremely humid Indian climate through the comfort of cotton sarees. These sarees have a special place in every Indian woman's wardrobe as it suits all women irrespective of age. Starting from the blouse's front neck, back neck, and hand patterns, style can be bought into your cotton blouse by the variety of designs you can opt for. Your cotton blouse will get fabulous as it can get, as you let your creativity go wild. Scroll below for some of the super cool cotton simple blouse designs that will improve your love of these sarees ten-fold!
16 Simple Cotton Saree Blouse Designs:
We all know cotton saree blouses are meant to be simple. We don't deny it. But even in simple blouses, you can opt for broad necks or slit necks to give a totally elevated look.
If your saree blouse is of dull shade, try to give some boost by adding embellishments around the border. Even a simple piping work in contrasting shades can make your blouse stand out and be eye-catching.
If your blouse is void of any designs or patterns, then it's a good idea to add some punchy borders. Readymade borders are hot among blouse lovers. You can give a fabulous stylish look to your cotton blouses with an addition of these chic borders. So, see below some simple cotton saree blouse designs…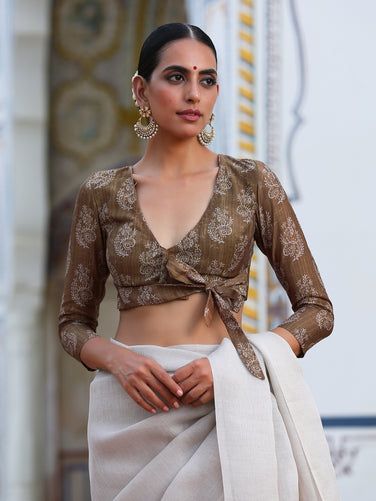 Front Tie-Ups:
Front tie-ups also make your blouse look more different from your boring default ones. Tie-up blouses are so opt for a cool look. So for your friend's outings or a relaxed vacation, you can try this one.
Broad front necks and chic collar necks have been on the fashion radar for a very long time and still haven't lost their charm among women. Yes, even if other things are too much to do, go for these designs for a new finish.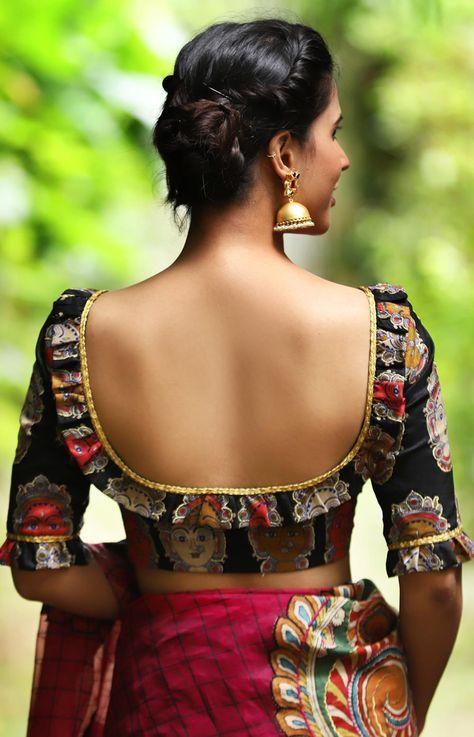 Ruffled Sleeve:
Bell-sleeved/ruffle-sleeved blouses have gained momentum in the fashion industry in a very short period. Pair it up with a simple or frilled saree to create a chic look. So, if you are looking for new ways to spice up your sleeves, then go for subtle patchwork with contrasting patterns.
This goes well with plain sarees. If your blouse is already defined with bold prints, then finish off these printed cotton blouses by adding something stylish on the borders. Again there are lots of ready-made borders available in the market to feed your creativity.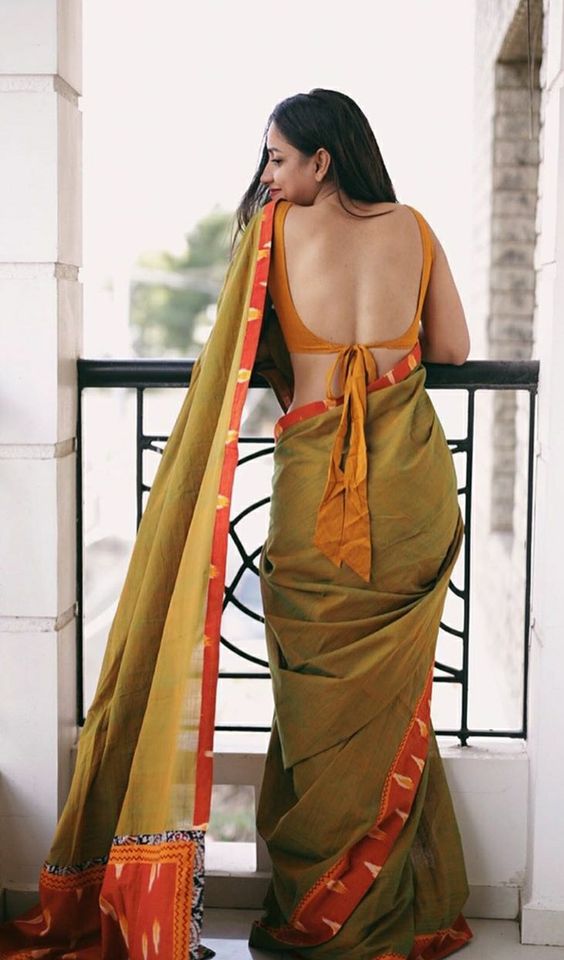 Backless Bow  Cotton Blouse:
These kinds of cotton saree blouse designs look flattering when worn for a day function. The Bollywood of the 80s-inspired look of this Ikat printed blouse gives the wearer true Bollywood retro vibes.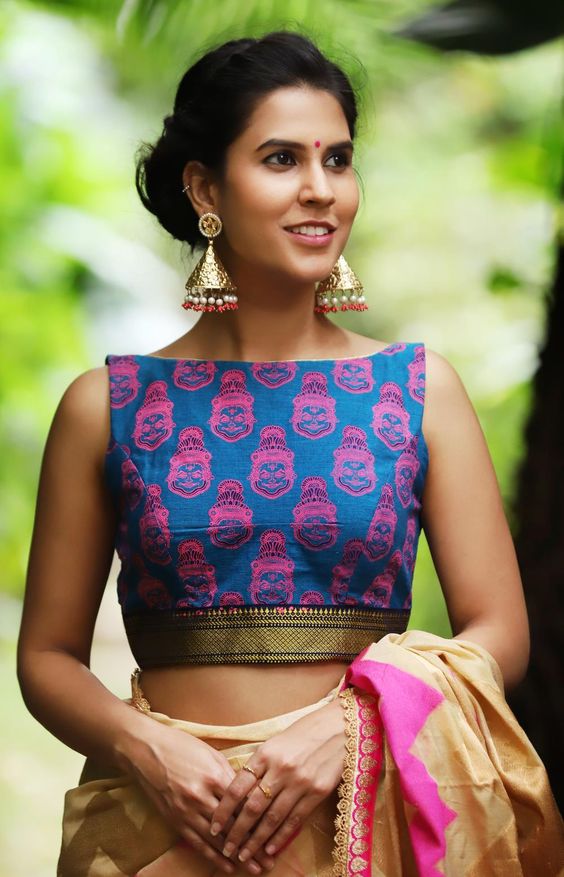 Boat Neck Blouses:
We all know how boat necks become every fashion-loving woman's top choice of blouse neck. You can go for such default stylish necks for your simple cotton blouses too. These necks can dramatically increase your style quotient while still retaining simplicity.
To add a layer of beauty, go for colorful piping like the one worn by the model below. While you opt for boat necks, it is better to stick with elbow-length or three-fourth sleeve blouses as this is a winning combination.
The princess necklined blouse cut is a go-to option for an effortless simple yet classy look. Easy, isn't it? Now we are into the most visible portion of the blouse where you can try so many cool things to make your overall style stunning.
The back neck is where everyone wants to try something new when they go for blouse stitching.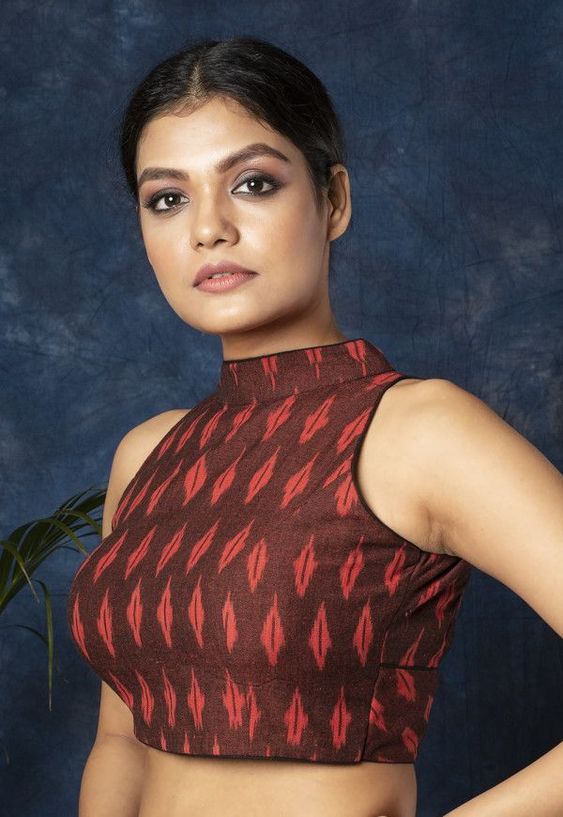 Turtle Neck Blouse:
This close-necked blouse design helps to create an electric outfit that can be comfortably worn to cocktail parties. Another interesting thing you can do with your cotton blouse's back neck, especially when the blouse is full of patterns, then try to do patchwork by cross-stitching them.
This will make a new pattern and stand out! So why go for default broad back necks, next time try these for a different blouse style.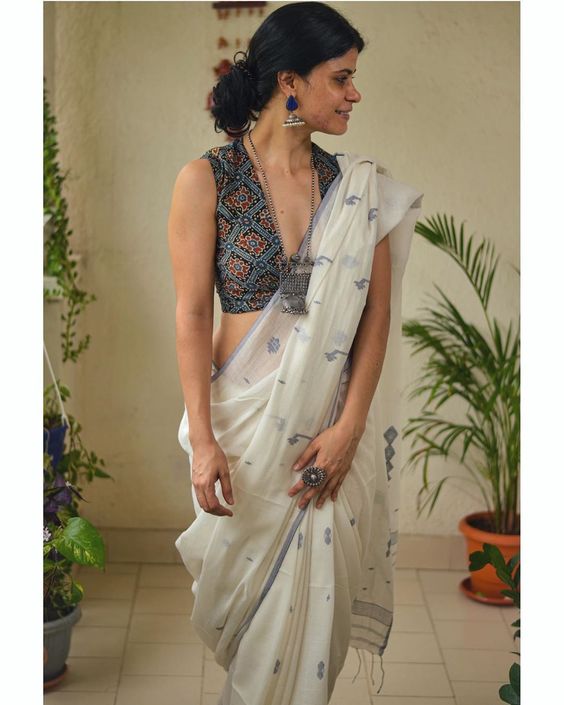 Deep V Neck:
Though the front necks are mostly hidden, still you can make use of the visible area for an appealing saree look. If your plan is to drape your saree in unconventional ways, then you can try plenty of front-neck designs to boost the saree look.
Buttoned blouses are making waves in the present trend. It gives a fresh look to your otherwise simple saree. Buttons are not just for back necks, you can try them on the front too. Bold metallic buttons in light colors add dimension to your saree.
Another way to make your front neck look drop-dead gorgeous is to opt for flattering cuts and slits that show off beautifully when you wear your favorite saree. If possible highlight those slits with attractive embroidery work or piping work.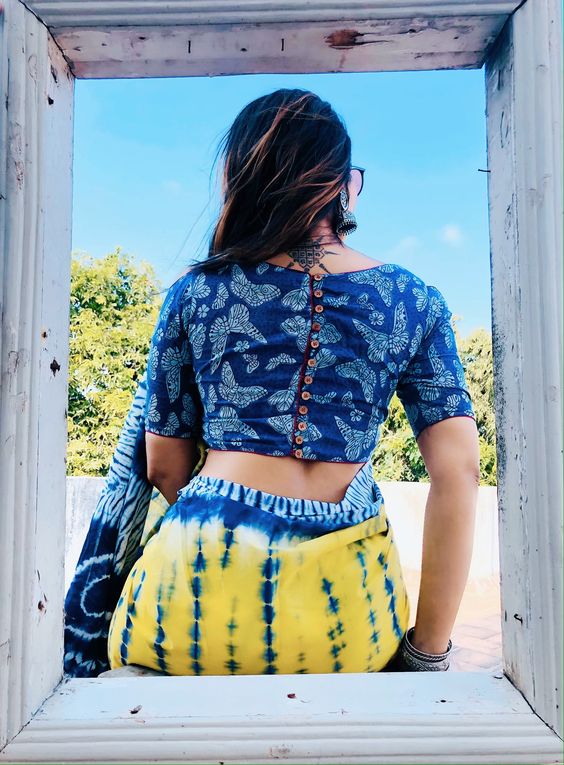 Button Down Back:
This style is suitable for all ages in that it gifts an instant lift up to the regular sarees and presents a royal look altogether.
Another quite popular simple cotton blouse design is the overlap design. It has also been emerging quite rapidly and people seem to love this idea as they find it interesting and unique.
It also adds a modern twist to the typical and traditional al blouse pattern or design. Such a Blouse is found in layers, that is, there is a layer over another that overlaps the layer that is beneath and it looks quite cool and cute.
Plain Full-sleeved Blouses:
This design stands as an amazing example of old gold! The trend of wearing full-sleeved blouses with simple sarees is gaining popularity among fashion influencers. Also, be creative and combine various blouse sleeve patterns with unique front and back necks for an entirely new style.
Even if you are afraid to try something new on the front and back necks, blouse sleeves are such fun to experiment with. It is totally doable and with a few changes, your cotton blouse is going to look totally cool.
Finally, we have come down to another favorite part of a saree blouse which is the sleeve. We already saw, how elbow-length sleeves are making a show everywhere. When there is so much competition for a trend, of course, you need to be a bit more creative to make your style unique.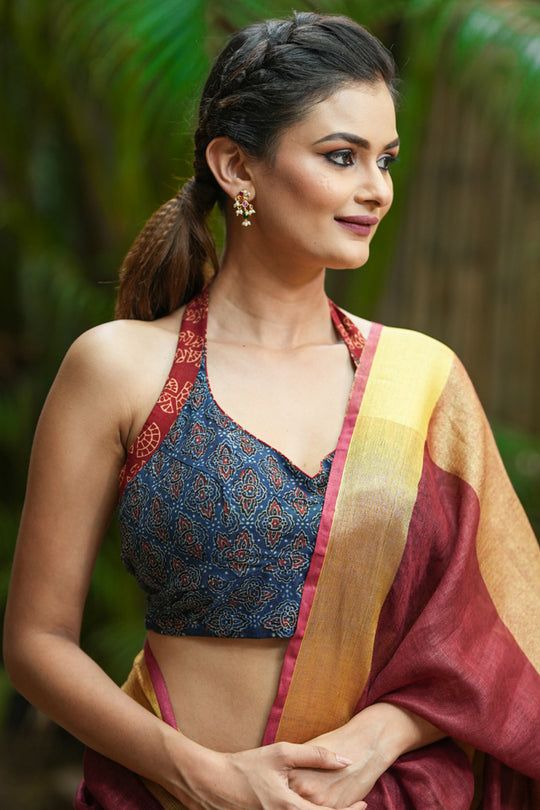 Halter Neck Blouse:
Girls with slim and rectangular-shaped bodies can flaunt the halter neck blouse perfectly. This sleeveless blouse with a stand collar and pretty piping at the neck gives it an astonishing look.
Pairing this one with a wholesale cotton saree in a bright and fluorescent color will give a tremendous appearance. This halter neck blouse gives a modish and voguish look to the wearer. You just need to choose the right color for yourself.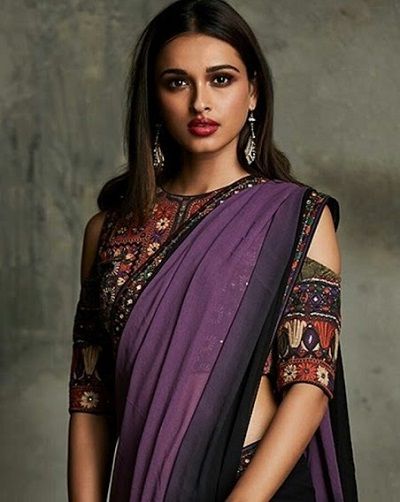 Cold Shoulder Blouses:
Young ladies who don't want to compromise for a full traditional look, this style is a godsend for you. Wear it with pearls or beaded detailing for a grand look. Hope you got the clue that the cotton saree doesn't have to be simpler anymore.
You have got stunning cotton blouses in your arsenal to make it spectacular. So dear friends, bookmark this page and come back here whenever you want to perk up your simple cotton sarees with some glorious blouse designs.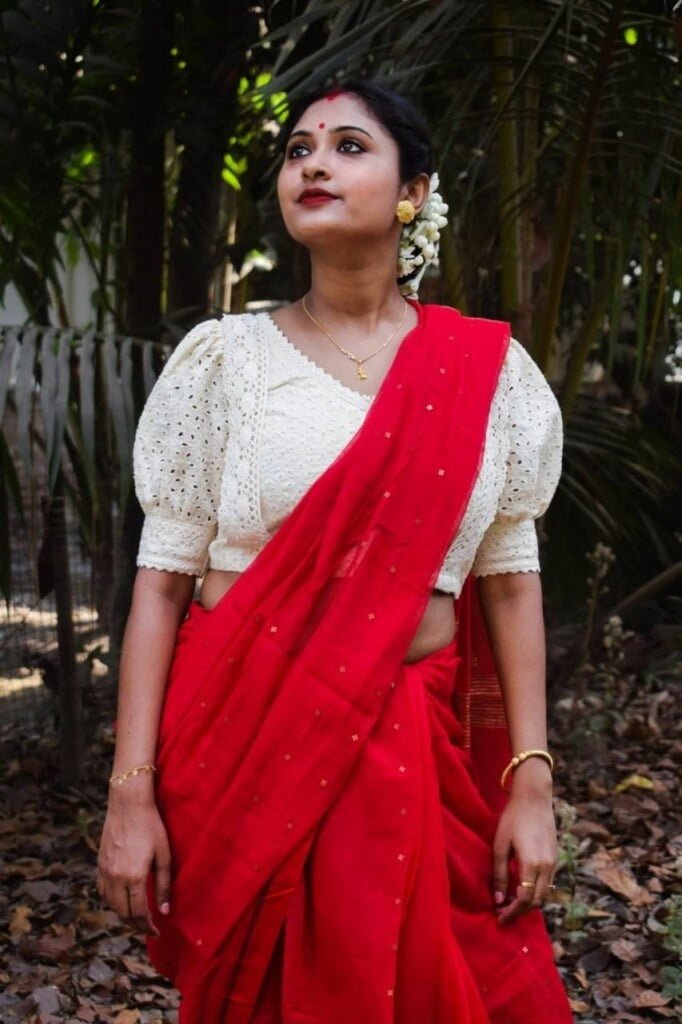 Puff Sleeved Blouses:
This one never goes out of Vogue. Pair up any saree with a puff-sleeved blouse to set the trend game on! The puff sleeves trend has made everyone in the 80s and 90s go crazy about them.
Literally, any picture from that era has captured almost every woman wearing the puffed-sleeved cotton blouse.
Believe it or not, people simply cannot resist the puff sleeves and so they are back in the game to dominate the fashion world yet again. It is always better to have your sleeves puffed to only a medium size and not a huge size.
Keeping the puff too small can make the blouse look very much tighter and make the person feel uncomfortable. So, the Blouse might end up looking weird instead of stylish.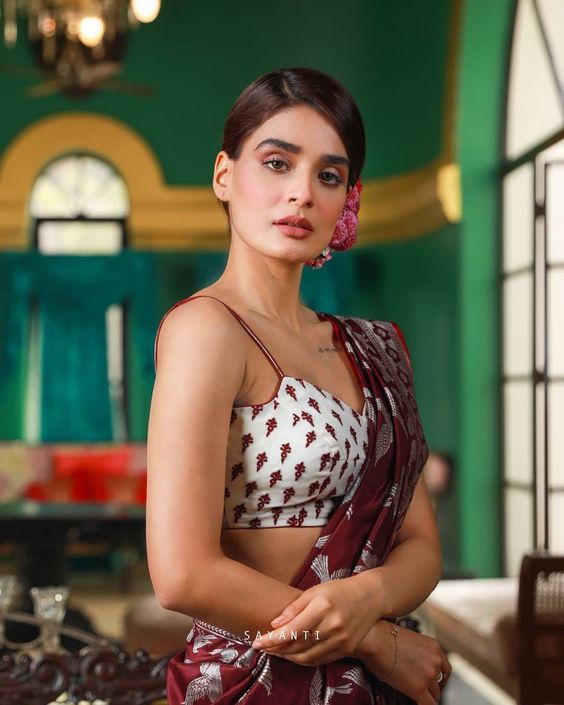 Noodle Strapped Cotton Blouse:
These designs look graceful when worn with bright-colored summer sarees for day functions. Belt the saree and noodle-strapped blouse around the upper abs section to bring more form to the saree style.
In terms of jewelry accessorisation, you can opt for pearl earrings and a string of pearls necklace to please this saree style.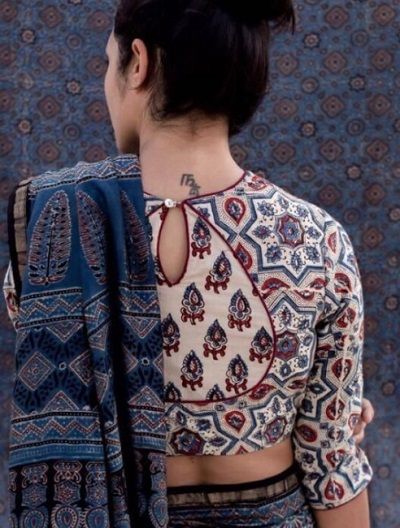 Hand-Blocked Design:
Cotton fabric is a very much preferred fabric when it comes to traditional wear. It does two things, one; it provides comfort, and two; it keeps the body cooler since cotton is a breathable material. So, a human body sweats comparatively less upon wearing a cotton outfit.
One of the most emerging designs these days has to be hand-blocked with Kalamkari print over it. The sleeves of such kind of a blouse usually reach to the elbows, that is, three-fourths of the sleeves.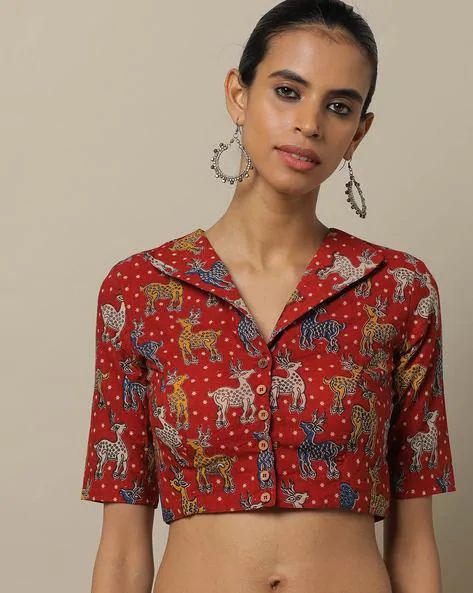 Collar-Neck Design:
Collar necks are not the most preferred thing by people these days. But, there are a few rare people who choose to wear collar necks, and to be honest they do not look that bad as well.
The advantage of a collar neck is that one can use any type of neckline of their choice with such type of a Blouse be it the V neck, the U-shaped neck, the sweetheart neckline, etc.
Such blouses can even be worn as crop tops or shirts over pants, skirts, lehengas, or even denim as the collar neck provides such blouses the formal look that is needed. They can also be used as casual tops paired appropriately with suitable bottoms.
Bandhani Print Blouse:
The elegance and charm of the bandhani print cannot be matched with any other design and pattern. This tie and dye technique of Gujarat is popular worldwide.
It usually includes bright and vibrant colors that are eligible to provide a gleaming look to the wearer.
A ruffle-sleeved bandhani blouse designed for a cotton saree paired with a plain saree will make you perfectly ready for the party. A bright red bandhani blouse or a pink or orange blouse will look superb with a pastel saree.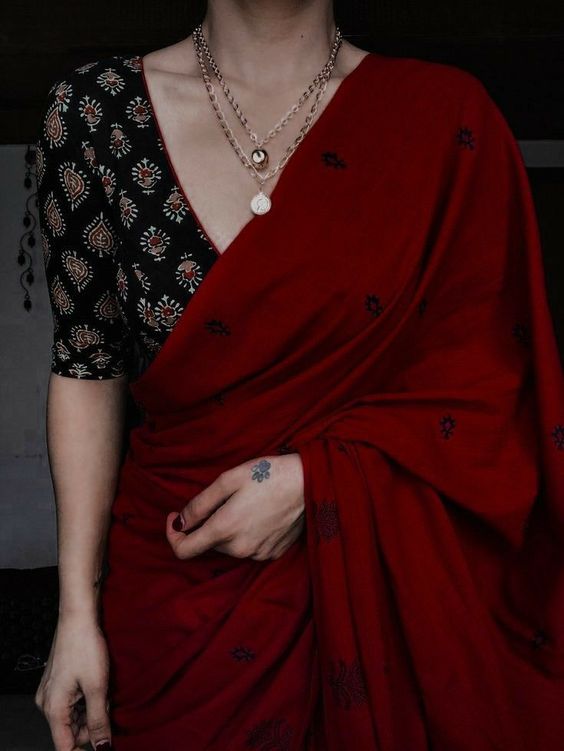 Simple Printed Cotton Blouse:
For a comfortable and breathable feel, you can opt for the pretty ikat print blouse designs for cotton sarees. The print is not only seen in blouses. But is also famous for sarees and salwar suits.
The best part about this blouse design for cotton sarees is that it matches every type of saree. And when it comes to cotton sarees, then it proves to be the best choice.
Keeping this one simple fashion makes you look more convenient. So just go for a simple boat neck and short sleeves.
Conclusion:
Drapery is an art, and Indians have mastered it. While the blouse accentuated the beauty of the saree, it also complemented much to the beauty and elegance. The journey of sarees and blouses has indeed come full circle.  Intentionally or unintentionally the film industry has contributed a high stake in determining the current trend and fashions.
Also, the enthralling traditions of our country have provided a source of inspiration for designers. Thus, designers are now able to combine and create versatile designs.
Related Articles:
Top And Best Cotton Simple Blouse Designs
was last modified:
November 30th, 2023
by