Trendy Wedding Blouse Designs for Silk Sarees
/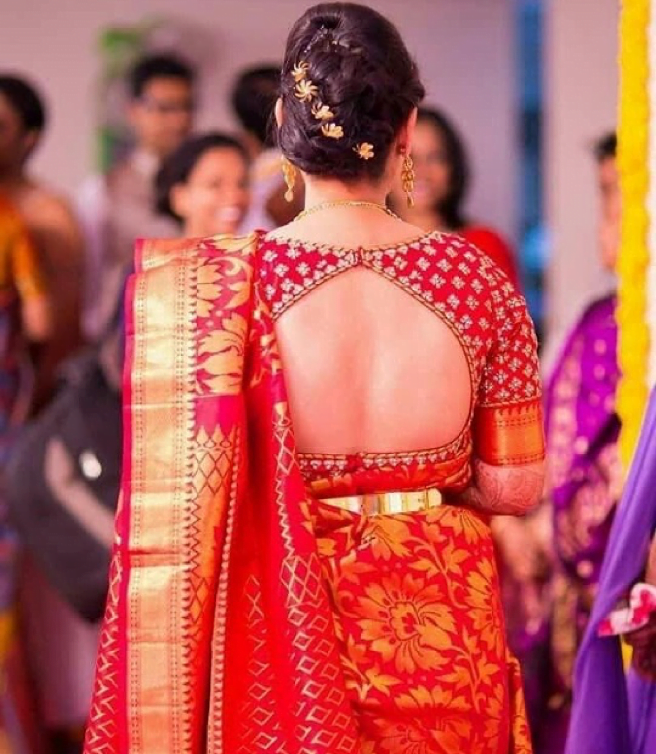 Image source : fashionshala.com
Silk sarees are what most brides prefer to wear on their big day. The most important thing to never forget when wearing a saree is choosing the right blouse to go with it. A blouse can make or break any saree attire. Wedding sarees are very attractive and stylish and without the perfect blouse that is well-designed, well fitting, right colour, etc. with your saree, the attire will be incomplete. Many women forget about the blouse when they go out shopping for a saree be it wedding sarees, party wear sarees for important functions and occasions.
Bridal sarees are beautiful and classy that's why you need to look for a blouse that will fit just right for that stunning attire on your big day. Depending on the kind of bridal saree you want to wear, the blouse can either be plain, heavily embroidered, with lace, long sleeved, boat-necked, etc. It would also help if you had an idea of how the blouse will look with the saree by checking bridal saree designs at stylecaret model pictures.
To help you choose the right blouse design for your bridal saree, here are some popular, trendy, and latest blouse designs for wedding sarees.
The Marathi bridal blouse design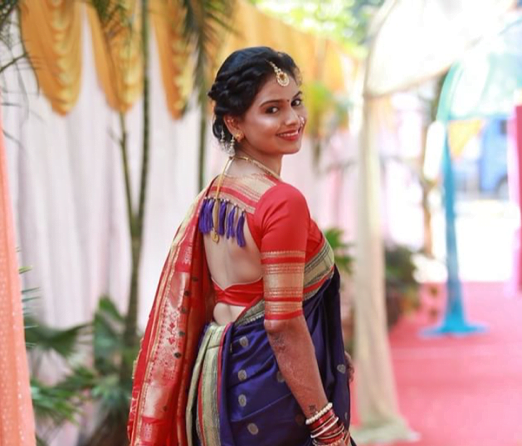 Image source:  https://www.pinterest.com/pin/421579215111368458/
This pretty blouse has cute designs that run throughout the blouse. If your saree is of bright colour, this blouse will be perfect to lighten up the saree even more. The blouse's sleeves have a different design which makes it unique and gives it a cool look.
The green blouse bridal design
This beautiful blouse design for wedding silk sarees has the colour of nature. It has a nice green base with many small and intricate patterns that make it look unique. You can wear this blouse with a saree with a lighter colour for your special day.
 Corset style blouse design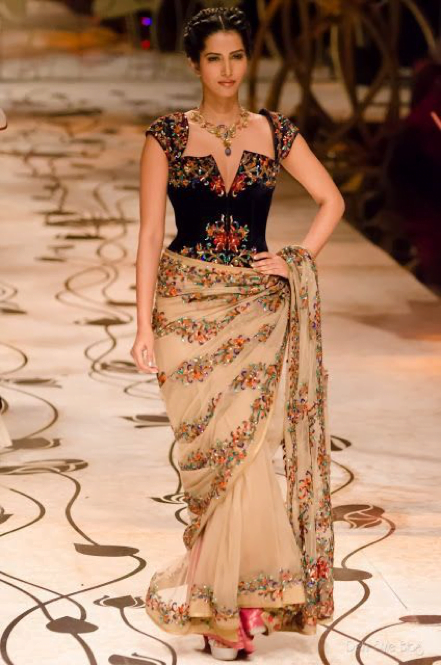 Image source: https://www.pinterest.com/pin/413275703288594183/
This is a Victoria-inspired corset blouse that is sure to make a statement at the wedding. If you can pull it off and your mum lets you get away with wearing it, then this offbeat choli is the way to go.
High neck, heavily embroidered with full-sleeved blouse
High neck blouses with heavy embroidery on a high neckline are very majestic. They add an old-age charm to their retro appeal which gives them a classy look. Mostly, high-neck blouses come in full sleeve designs however, you can experiment with other sleeve lengths to get the one that will suit you. Women with double chins, short stocky necks, heavy busts, or if you want to wear heavy neck jewellery, you should avoid wearing this blouse design.
The authentic silk saree blouse design
This authentic silk saree blouse is one of the finest blouses a bride can wear on her body. It's an adorable blouse that has been made with alluring small materials that will make people keep staring at it.
The South Indian silk saree design
If you have chosen to wear silk on your wedding day, then this blouse is the perfect choice to accompany your saree. Its unique colour and awesome blouse designs will draw a lot of attention to you. You can pair this blouse with a yellow coloured saree which most women prefer to wear to wedding functions.
Buttoned back blouse design
A buttoned back wedding blouse design is an old style design that is still trending with different looks. If you are going for the ethnic bridal look then this is the perfect blouse to put on.
Cutwork detail, sequin work, full-sleeved blouse
This cutwork blouse is a hot trend that infuses its feminine appeal and girly charms to your blouse and saree. The combination of cutwork designs and sequin exquisite work gives this blouse a delicate look making you look gorgeous in it.
Classic stringed low back embroidered blouse
This classy blouse design will always be in fashion and one that you can wear in different styles and still look elegant. You can pair a plain blouse with a low back with strings and pair it with a heavy Mysore or Bangalore silk saree for that stunning look. This is a common design with most bridal sarees like the heavy Banarasi silk sarees.
Sheer back embroidered Georgette blousewith sheer-sleeved
This sheer back embroidered blouse design is both fashionable and sensuous and loved by fashionistas and young college girls. You can pair this trendy blouse with a designer reception saree. However, avoid pairing it with handloom or Kanjivaram silk sarees.
Waist length long choli style with cap sleeved blouse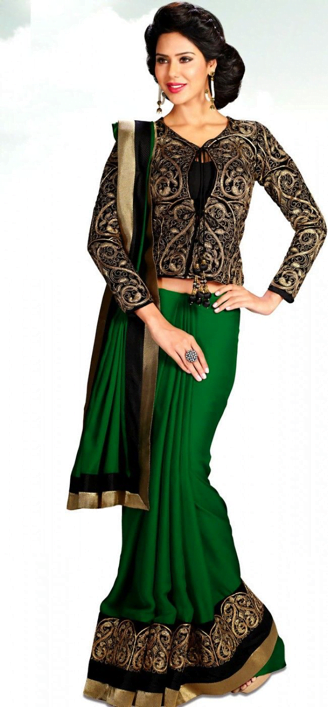 Image source:  https://www.pinterest.com/pin/336503403385921166/
This waist length cap-sleeved blouse is the perfect styled blouse to go with wedding sarees to add some oomph to your attire. If you want to hide some extra belly fat, this waist length choli is the right choice but don't get a very long one. You can also opt to go for a short-sleeved one if you don't like the sleeves.
Heavy South Indian wedding silk saree blouse design
This eye-catching South Indian blouse design has a blue colour base with small intricate patterns. It can be worn by both the bride and the women attending the wedding. The unique blouse design and the saree are perfect for any bride. The lower part of the sleeves has the same colour as the saree which gives you a unique look.
Metallic embroidery, three-fourth sheer sleeves blouse
Blouses with sheer sleeves, shoulders, and back are a hot trend nowadays. You can choose where you want the sheer and the length of the sleeves, but avoid this style if you have very broad or flabby upper arms. This fabulous blouse can be worn with festive and party wear sarees or reception sarees.
Tone-on-tone heavy embroidery, georgette blouse with elbow length sleeves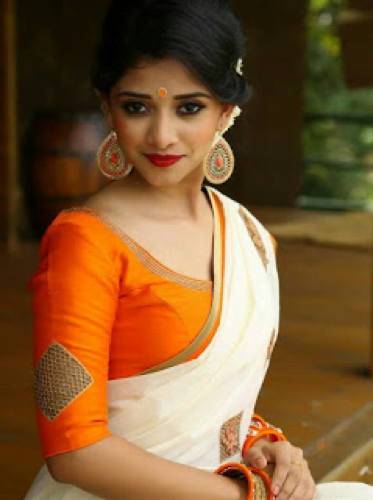 Image source: https://www.indiamart.com/proddetail/off-white-handloom-saree-with-orange-color-19351864062.html                              
Although this embroidery is heavy, the overall look is light and trendy, while the georgette flows smoothly to give a youthful vibe. Pair this beautiful blouse with a vibrant saree to give you that trendy look.
Conclusion
Find the perfect blouse design to match with your bridal saree for that important day so that all eyes will be on you.
Trendy Wedding Blouse Designs for Silk Sarees
was last modified:
July 14th, 2019
by