Traditional Dress Of Kerala | Men & Women
/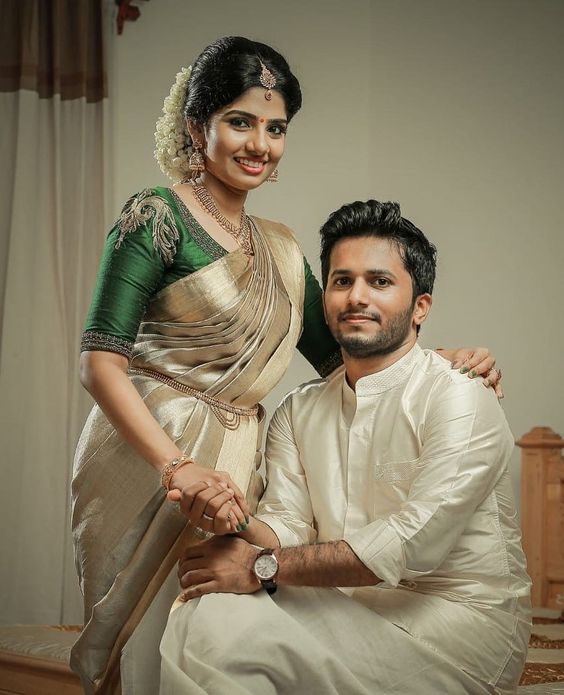 Kerala, a state of India, is famous especially for its lush green landscape and coastline. It experiences a feeling of peace and purity that comes to its forefront when someone sees the individuals of the state Kerala in white attire. They wear dresses which are in soft colors, the traditional dress of Kerala is "Mundu", which is a unisex dress originally worn as a short dress. It bears a resemblance to a dhoti or long skirt as well as the upper attire varies with gender and age.
Traditional Dress Of Kerala For Females: "Mundum-Neriyathum"
The traditional dress worn by females of Kerala is Mundum-Neriyathum. The traditional piece is Mundum which is low cloth and has 2 pieces of cotton cloth. Mundum is worn out around their hips but below their navel.
The piece of cloth is white or creamy in color and thus it possesses a colored stripe called Kara or border. Females of Kerala state wear the Mundu in various style from females of the Christian family. Neriyathum is basically the name of an upper garment of the traditional dress of Kerala. Women of Kerala place it over the blouse, with one end tied in a Mundum and the other end worn over the torso.
Women of Kerala wear this in a diagonal manner so that it looks like a sari. They wear it in such a way that it goes from their right hips to their left shoulder. The color of the blouse reflects the age of the females of Kerala and the marital status of females of Kerala. Unmarried young Malayali girls wear green blouse while married women wear a red blouse. For any festival or occasion, there are Kasavu Nerathu and Kasavu Mundu. These are tremendously delicate and pure cotton material handloom dresses, which especially fitted with golden threads.
Traditional Dress of Kerala For Males: Mundu
Malayali males are way more conservative than females of Kerala and also their traditional dress is Mundu (just like women). They wear this as a long dress. Men of Kerala usually wear it at the waist and reaching the ankle. Many men wear no cloth above the waist, but those of the upper castes at least wrap a towel-like cloth over the shoulders.
The traditional garment of Hindu males residing in the state of Kerala is Kasava Mundu. This dress is very popular in rural or remote areas. This dress is a piece of cloth, which is of silk material and is 3 to 4 meters long from the silk border. The men also wear lungi or kelly, which serve as an informal dress.
But on the way out of the house, the men put on a shirt and wrapped a Mundu around their waist. And take Neriyathum above their shoulders and apply a paste of slippers on their chest and eyebrows which gives them a very dignified appearance and a royal look.
Recommended Articles :- 
A Basic Guide to Cocktail Attire for Men
Most Beautiful And Trendy Saree Draping Styles
How To Pick a Ring for any Occasion?
Trendy Wedding Blouse Designs for Silk Sarees
Causes of House Fires & Its Prevention Ideas
BOTTOM LINE
Nowadays western culture has affected individuals much the same as the remainders of India and individuals have begun wearing western garments like shirts, pants, skirts, dresses, and so on. Be that as it may, at whatever point any religious occasion or a wedding or some other capacity is commended. They ensure that customs are pursued, and individuals wear just the customary clothing types. The individuals of Kerala still safeguard the way of life.
Traditional Dress Of Kerala | Men & Women
was last modified:
September 24th, 2019
by