Cultural Dress Of India In Every States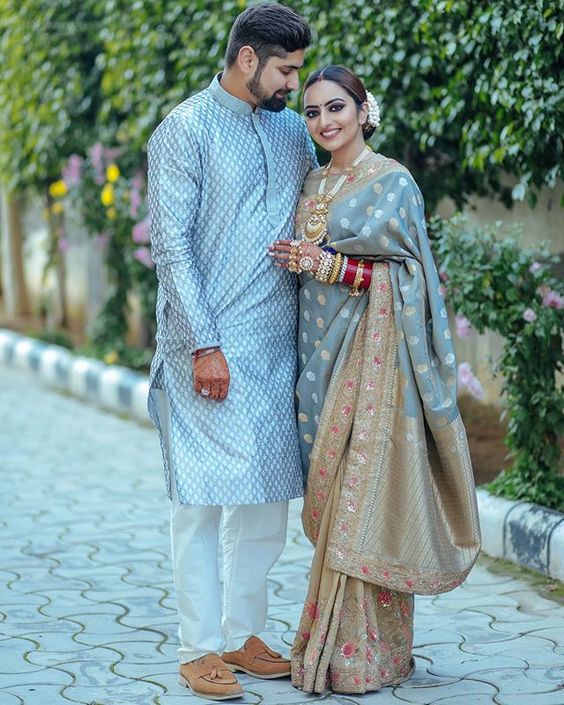 India is called Incredible India, i.e. land of diversity dipped in unity. People from various religions, cultures, regions, dialects, ethnicities, and races live together. With such uniqueness among people, the Indian states possess some characteristics that are unique to them. Each state has its traditional dresses, cuisines, festivals, folk dance, and language. During festivals and celebrations, people usually turn to their folk dance and traditional dresses. They adorn beautiful dresses that are specific to their state and community. Traditional dresses of Indian states vary from region to region. Let's explore the various cultural dress of India.
Cultural Dress Of States In India:
Clothing is a centuries-old traditional identity of human culture. In the Stone Age, humans used to cover their bodies by making covers of large leaves or bark of trees. Then came the era of leather. Early humans started hunting and eating animals like deer and tigers and started using their skin as clothing.
According to the theory of evolution, due to gradual progress, changes in behavior and dress were also observed.
Clothing has been prevalent in India since ancient times. The sculptures found in the excavations of the Indus Valley Civilization are adorned with ornate clothes. Indian people used to wear clothes made of cotton. Cotton has been cultivated in India since 2500 BC.
The people of Europe came to know about "cotton" 350 years before Christ through the soldiers of Alexander the Great. Till then all the people of Europe used to cover their bodies with animal skins. The name of cotton has also become popular in other languages of the world from India itself. Such as Karpas in Sanskrit, Kapas in Hindi, Kapas in Hebrew, Karposus in Greek and Latin, etc.
Fashion means manner or style but in practice, fashion is called clothing style i.e. the art of wearing clothes. Man uses fashion to look beautiful. Be it a youth or an adult, everyone has their own personal style of wearing clothes.
Boys and girls are called Vidyarthi, and Vidyarthi means one who desires knowledge. If students aspiring for education start loving fashion then they can stray far away from their goal. That is why schools and colleges have their own personal uniform.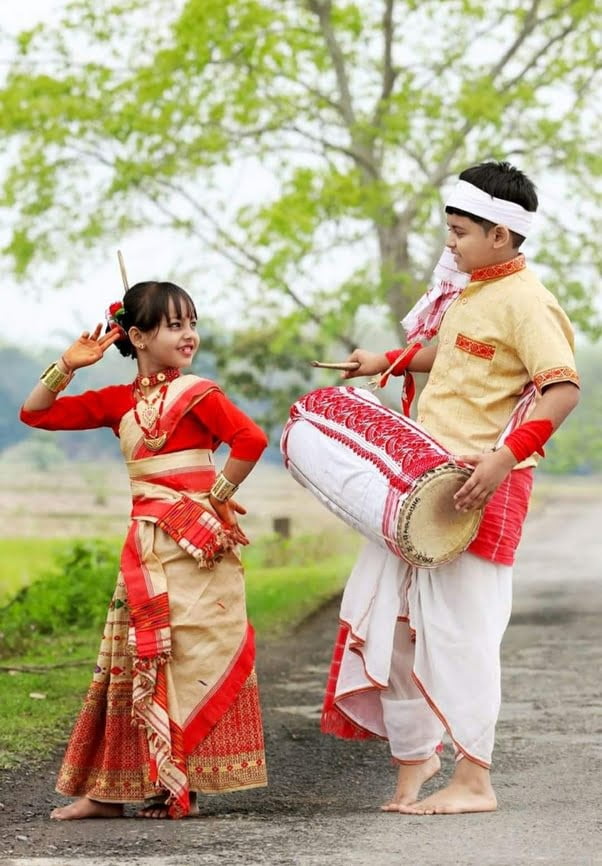 Assam:
The attire of Assam is full of bright colours. The silk sarees here are extremely popular in India and are in demand throughout the country. The most famous attire in Assam is the Mekhala worn by women, and the Muga artwork here is also very unique. In which green, red, yellow, and pink colors are used.
The bride's clothes are decorated with silver and golden threads so that the bride looks beautiful on her wedding day. Here the dress worn by men is dhoti. Women of the Bodo tribe wear Mekhala with chadar. All the traditional clothes worn here are made of silk. Silks like Paat, Eri, and Golden Muga are used to make sarees and mekhalas.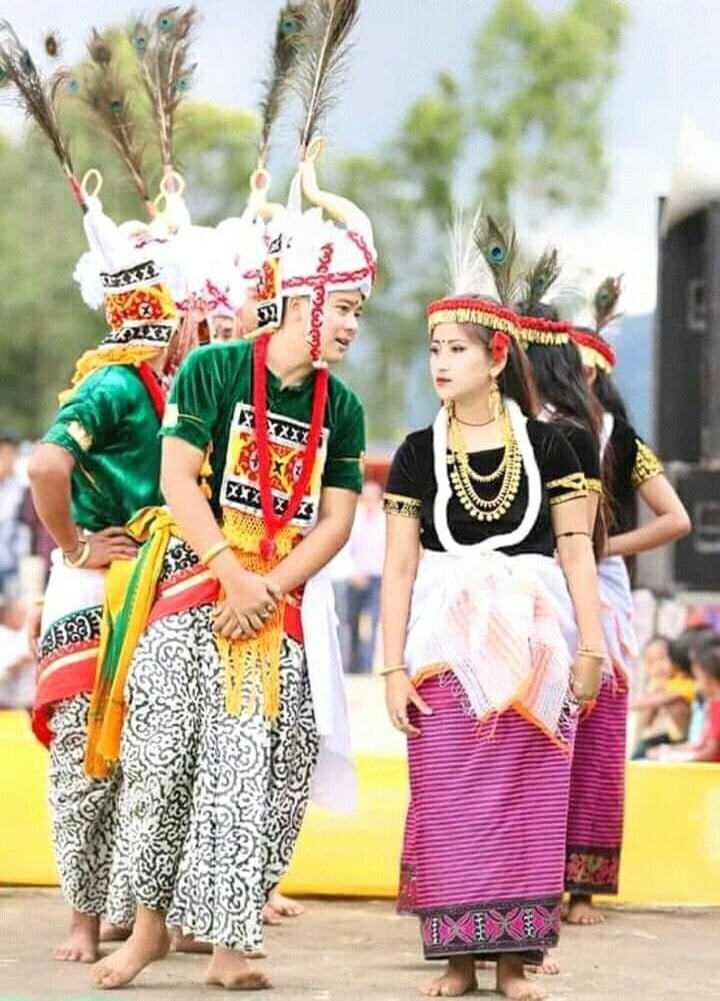 Manipur:
Inapi and Phanek is Manipuri traditional dress for women in Manipur. A shawl or scarf called inapi and a skirt called funak, which is wrapped around the chest. The dress is hand-woven in horizontal lines.
Men wear a dhoti which is four and a half meters long. These are wrapped around the waist and legs and knotted at the waist, and paired with smart jackets or bandhis. The headgear is a white turban or turban.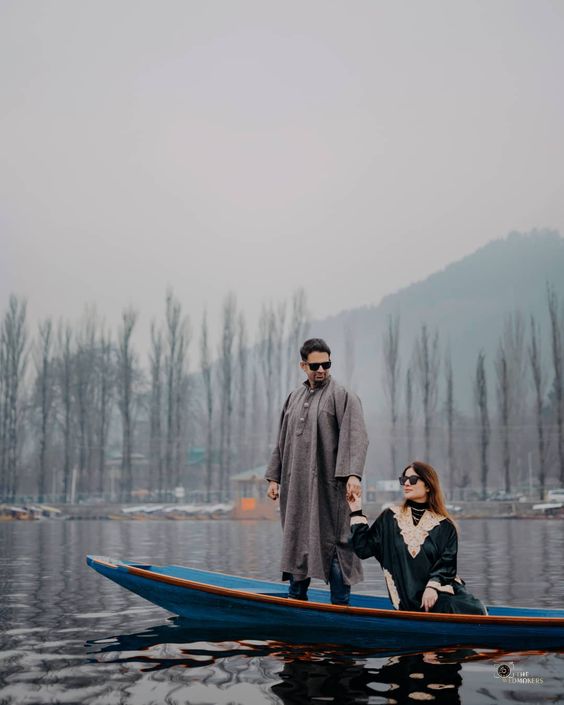 Jammu and Kashmir:
Pheran is the main dress for Kashmiri women. The pherans worn by women usually have zari, embroidery on the hemline, around the pockets, and mostly on the collar area. Women like a suit and bargha in summer and pheran is preferred in autumn.
Both Hindu and Muslim attire of a Kashmiri man is the pheran, a long loose gown hanging below the knees. Men wear a skullcap, a close-fitting shalwar (Muslim), or churidar pajama (Pandit).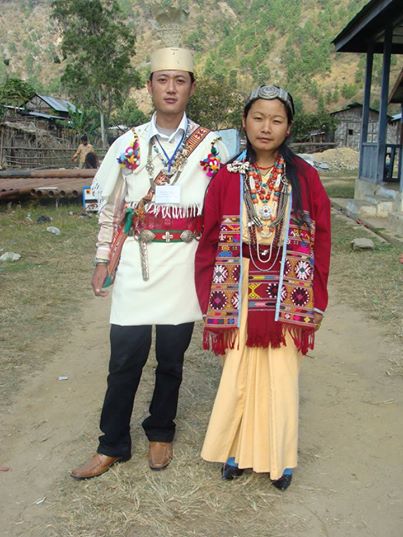 Arunachal Pradesh:
Arunachal Pradesh is a north-eastern state of India bordered by Nagaland and Assam to the south, Myanmar to the east, Bhutan to the west, and China to the north. Their costumes are very lively, and bright and their innumerable patterns vary with different tribes. The attire of Arunachal Pradesh is remarkable and famous all over India.
Monpa, a Buddhist community famous for their skull caps, women wear sleeveless chemises with long jackets. There is a narrow strip of cloth that they tie around their waist to hold the chemise in place.
Bamboo earrings and silver earrings are very common. The women of the tribes living in the lower Kamala valley have a very peculiar dress. They tie their hair in a knot just above their forehead.
Men wear sleeveless material made of silk with two edges pinned to the shoulder area. The clothes are knee-length and its hallmark is a skull decorated with yak hair.
People of the Tang tribe wear dress which is Burmese style. The men wear sleeveless shirts and green lungis with white, red, and yellow threads. Women wore woven petticoats with blouses. Mizi women wear a long skirt and large earrings.
West Bengal:
Just as West Bengal is famous for its food, it is also famous for its clothes. The most popular attire here is the saree but there are many different ways of wearing the saree. The Bengali saree and its image of Bengali women defines West Bengal. The traditional saree there is called Satnapuri.
Mostly white and red sarees are worn here. There is a very different style of carrying pallu in these sarees. Only dhoti kurta is prevalent in men's attire. The way of wearing dhoti is also quite different. Here one end of the dhoti is often left open and held in the hand, which shows the social status of the person.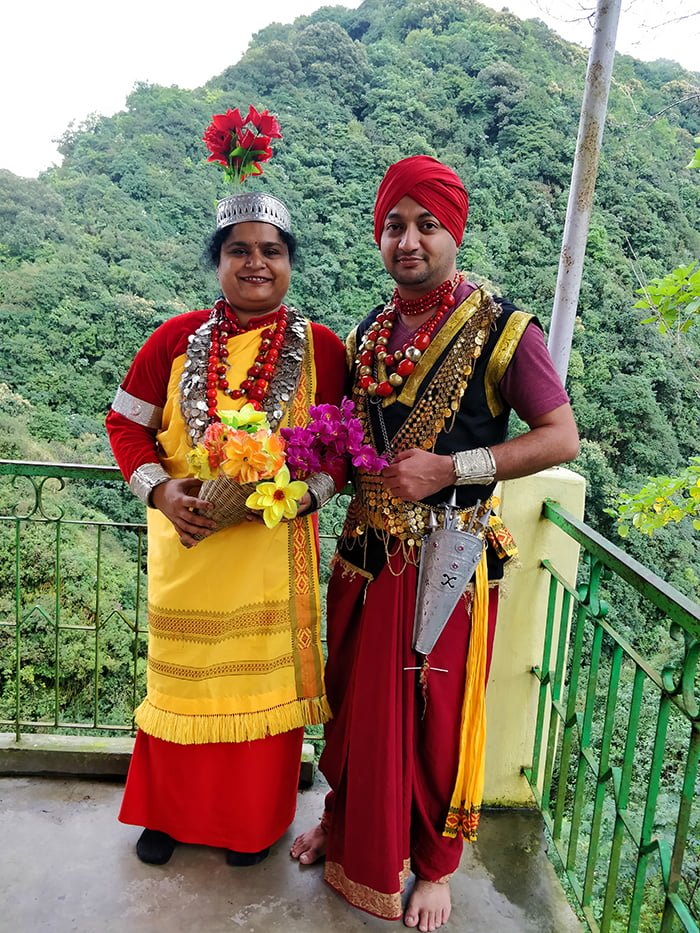 Meghalaya:
The three main tribes in Meghalaya are the Khasi, the Jaintia, and the Garos, and the traditional dress of each tribe is peculiar. Traditional Khasi women's dress is called Jansem or Dhara, both are elaborate with several pieces of cloth, giving a cylindrical shape to the body. Traditional Khasi male dress is a jimphong, a sleeveless coat without a collar, fastened by a thong in the front.
A Garo woman also wears a blouse and an unlined 'lungi', known as a cloth. Both Garo men and women enjoy adorning themselves with jewelry. Women of the Jaintia tribe wear a velvet blouse with a sarong called 'Thoh Khirwang', which is wrapped around the waist.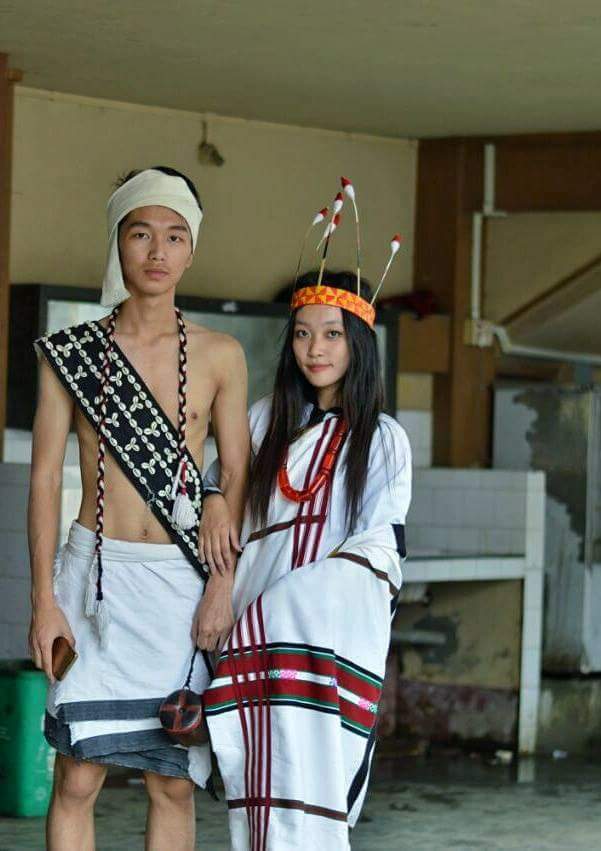 Mizoram:
Mizo women love to wear Puran, which is the most favorite dress in Mizoram. The vibrant color extraordinary design and fit made this dress look fabulous. Punchhi, the gorgeous attire of Mizo girls is a must during weddings and festivals like 'Chapchar Kut' and 'Paval Kut'. The shades in the costume are black and white. The black part of the fabric appears to be produced from some type of synthetic fur. Kavachai is a great blouse for Mizo girls. That too is hand woven and cotton material.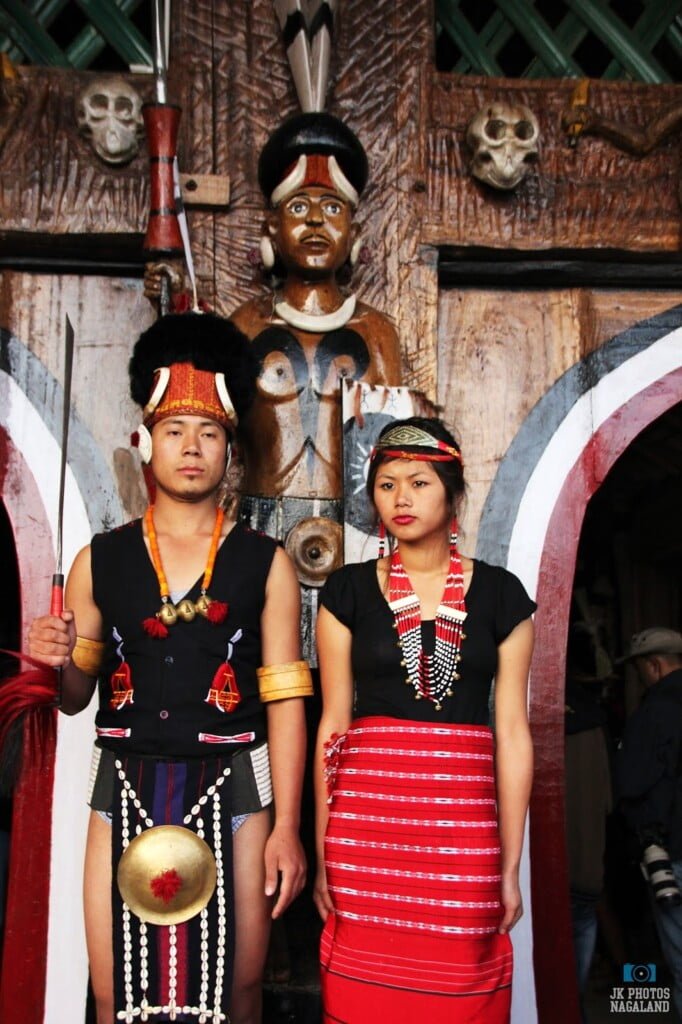 Nagaland:
Naga costumes have red as the primary color. The traditional dress materials and attire of Angami men are kilt and wrap, while women use skirts, shawls, and aprons. Most women, unlike men, wear traditional clothes. Bending below the knees is a man's distinctive waist dress which is light blue in colour.
A woman's skirt is a sheet of fabric that is used by rolling it up along the waist and extending down to cover the legs. Neck ornaments are mainly made of beads, shells, boar's tusks, and horns.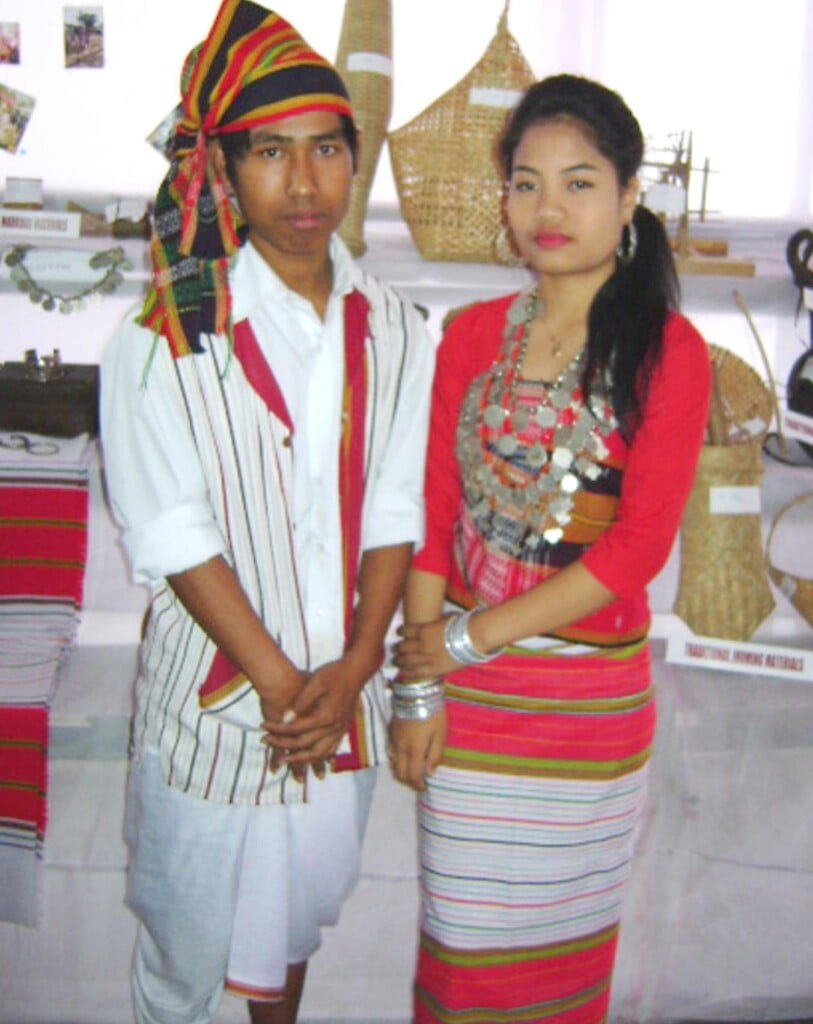 Tripura:
The dress for the lower half of the body of women is called Rigvanai in Tripuri and the dress for the upper half of the body consists of two parts Risa and Rikutu. Risa covers the chest part and rikuthu covers the upper half of the body. Nowadays the Risa is not worn, instead, a blouse is worn by most Tripuri women due to convenience.
The male counterpart wore 'rikutu' for the loincloth and 'kamvalvi borok' for the upper part of the body. But in the modern era, very few people wear these clothes except in rural Tripura and the working class.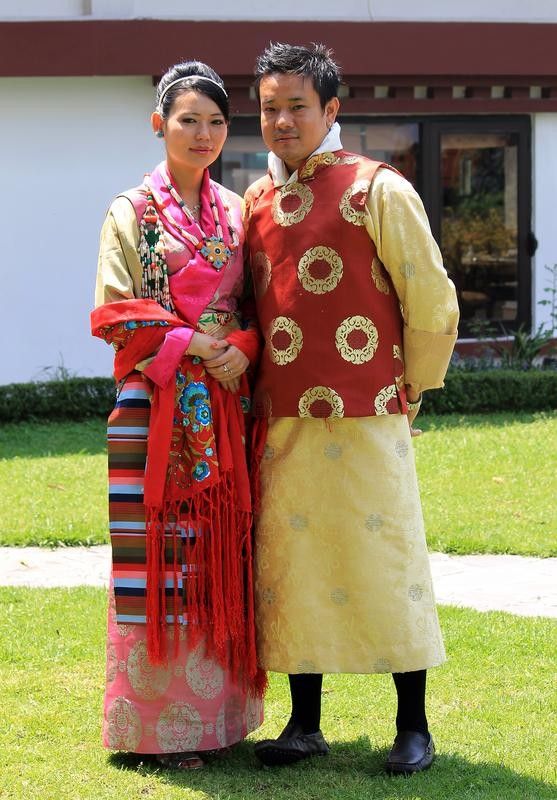 Sikkim:
Sikkim is famous for its traditional attire. Unlike other tribes in India, the Bhutia attire of Sikkim is very different. Sikkim traditional dress was promoted by the dynasty of Nagaland. The men here wear a shirt and loose pajamas made of a cloth called Shambo, which is loose fitting like a trouser. The Bhutia women here enjoy much higher status in dress than men.
The women here wear a full-sleeved silk blouse and tie a loose sheet of multicolored woolen cloth with it like a saree. Which is called 'Pangdan'. Which symbolizes a married woman. This traditional attire is complemented by embroidered leather shoes cushions, and a jacket.
Rajasthan:
Rajasthan is a state which remains very dry. To remove this dullness the women there wear very bright clothes. Everything from head to toe like turban, jewelry, shoes, and clothes reflects Rajasthani religion, identity, and social and economic status. Women here wear a colorful ghagra or a long skirt called a kurti (blouse and top). They cover the head with a scarf which is according to the color of the ghagra.
Are very famous among women in Rajasthan, mostly cotton, colorful, and designed with Lahariya, Chunari, and Mothra prints. Married women have to wear a veil and there is a lot of respect for Paro Bichhiya, Borla, and Nath. The men there wear kurta with which turban is most recognized. Turban and shoes are worn in the royal houses there.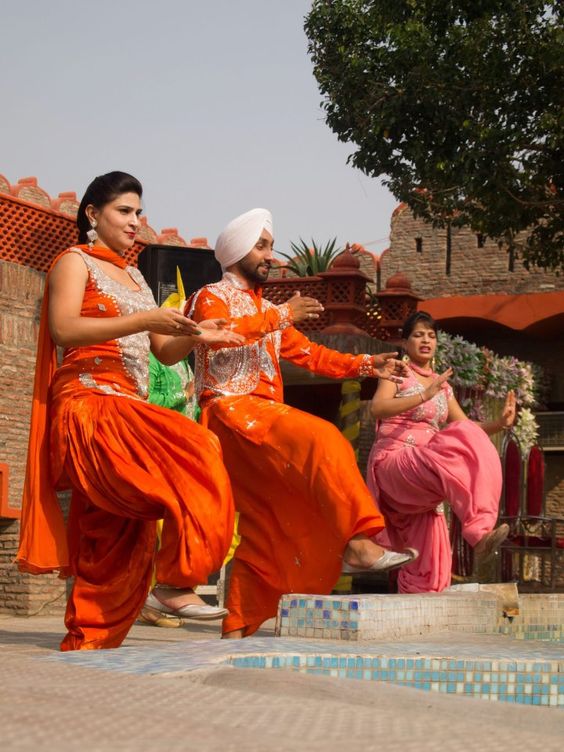 Punjab:
India is a colorful land and Punjab is one of the traditionally prosperous states of this beautiful country. The extraordinary clothes of Punjab reflect the lifestyle and Indian culture. Churidar kurta and Patiala salwar are the only ones that are worn by the women of Punjab. Patiala salwar originated from this state. Now it is worn by most young girls all over India with a kurta and Patiala salwar along with a colorful dupatta.
Patiala salwar originated from this state. The women here also wear ghagra, while the men wear kurta pajamas and lungi-like attire is also included with the kurta. They wear different colors of turban according to their clothes. Punjab is known for its distinctive style of shoes, such as juttis, which are worn on any formal festival or occasion throughout the country.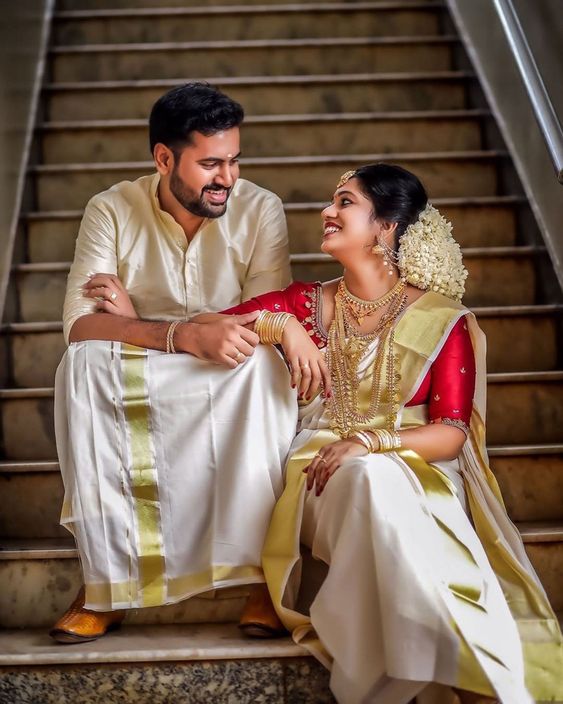 Kerala:
The traditional clothes of Kerala reflect the simplicity of the people there. In Kerala, women and men mostly prefer to wear white clothes. The most popular ethnic wear here is Mundu. Which is worn in the lower part of the body from the waist to the feet. Mostly worn by men, Mundu is a lungi that is worn by all men in Kerala. It has gold zari work which represents royalty for men and women.
This dress is worn in Kerala, the Tulunadu region, and the Maldives islands. This fabric can be worn on both formal and informal occasions and has many different styles for women as well. Here also only saree is worn by women. Which is completely made from pure cotton and is comfortable in the summer season. Often, sarees made of Kanchipuram silk or Banarasi silk are worn here.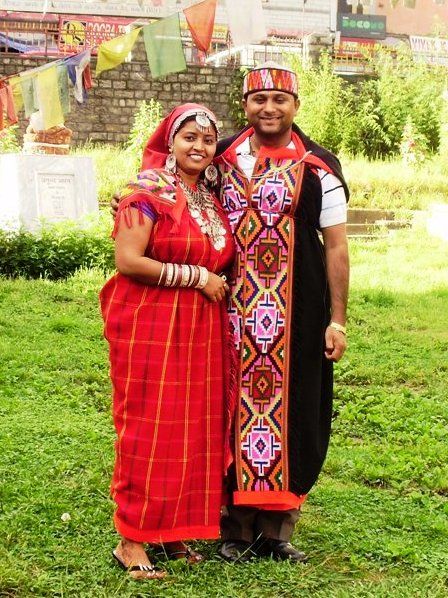 Himachal Pradesh:
Rajput men wear long kurta with churidars while Brahmin men wear kurta with dhoti. Men adorn overcoats made from yak leather and embroidered with golden threads and turban. This traditional attire keeps them warm during winter. Brahmin men mostly wear white-colored dresses and hang a soft towel over their shoulders.
Rajput women wear a long kurta over a skirt or salwar. Brahmin women wear Ghagra-Choli, sometimes also worn by Rajput women. Women also wear rahide, i.e. headscarves. Women drape shawls and wear a lot of bangles.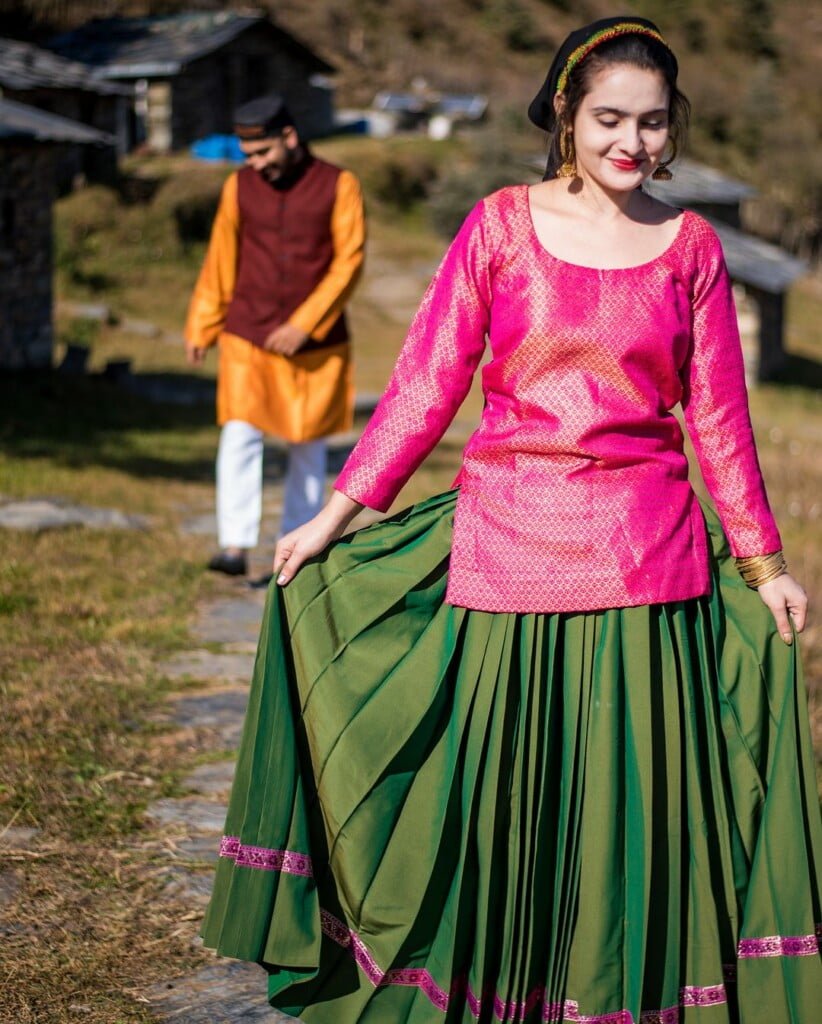 Uttarakhand:
Men of Garhwalis and Kumaonis wear a kurta over a lungi, dhoti, or pajamas allowing them to travel long distances on foot. Men also wear a turban. Over the kurta, men wear woolen jackets and sweaters. Older men wear a turban while the young men wear topis.
Garhwali women wear a saree called Sarang. The saree is pleated, wrapped, and tied around the waist. Over the saree, they tie a shawl around their waist. They wear a blouse to protect themselves against the cold climate and wear a sweater on top of it.
Traditional dresses of Kumaoni women include Ghagri-Choli with odhani (pichhora). The pichhora are considered holy and are red with gold or silver lace embroidery or gota work.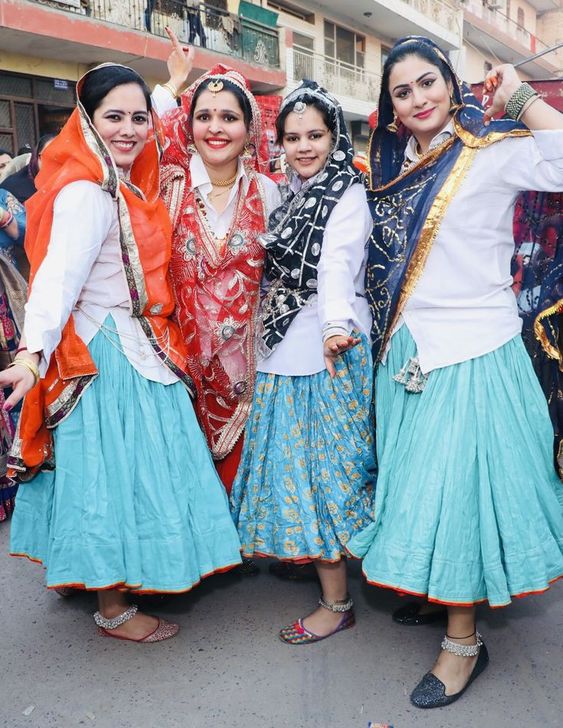 Haryana:
Men usually wear 'dhoti', a wrapped cloth, worn between the legs with a white kurta. 'Pagri' is the traditional headgear for men, now worn mainly by older villagers. All-white attire is a status symbol for men.
Haryanvi men wear a kurta, usually white, over a dhoti, white or colorful. They wear pagris on their head, usually worn by old men of villages.
Women like to wear colorful clothes. Their native haunts include 'Daman', 'Kurti', and 'Chander'. 'Chander' is a long, colorful piece of cloth, decorated with bright lace, meant to cover the head and is pulled forward like the 'pallava' of a saree. Kurti is a shirt-like blouse, usually white in color. The 'Damon' is a striking ankle-length skirt in striking colors.
Women wear a kurta, usually white, like a blouse over daaman, a flared ankle-length skirt that is brightly colored. Over the daaman and kurta, women drape chunder, a piece of cloth with shiny lace at the borders. One end of the chunder is tucked inside the daaman, and the other is used to cover the head.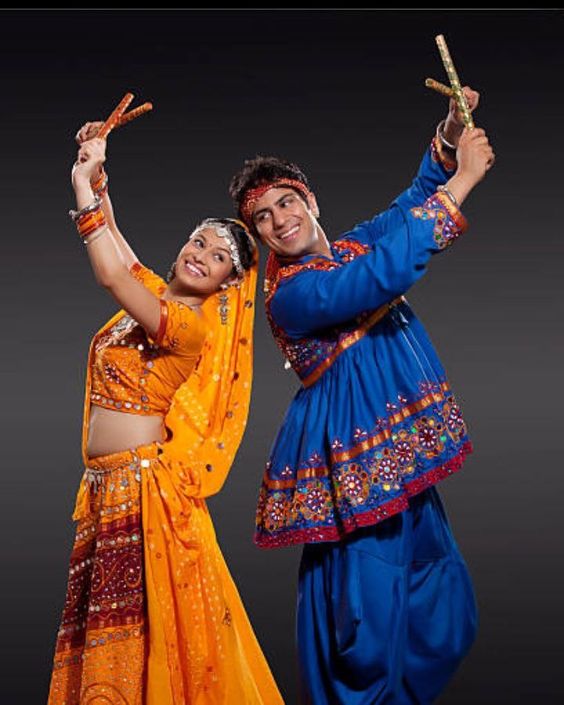 Gujarat:
Gujarati men wear chorno and kediyu. Chorno is a loose and comfortable cotton well-stitched dhoti worn using threads or elastic, while kediyu or angrakhu is frock-like clothing worn on the upper body. It is colorful and frilly. Chorno and kediyu are brightly coloured, patterned, and covered with mirror work. Men also wear a turban on their heads called phento.
The traditional dress of Gujarati women is chaniyo-choli and odhani. Chaniyo is a pleated skirt-like cloth worn under a choli. Choli or Polku is an embroidered short blouse. Over the chaniyo-choli, women drape odhani to cover their heads. Saree is also a traditional dress of Gujarati women. Women wear a saree with the end of the saree in the front.
Maharashtra
Men wear dhoti, kurta, bandi and pehta. A bandi is a short jacket worn over a kurta. Pehta is a small cotton hat worn on the head to protect from sunlight.
Women wear a nine-yard saree called Nauwadi Saadi or Lugda. The saree is draped in the style of the dhoti, and the choli is worn on the top. Maharashtrian sarees are usually green, red, or yellow.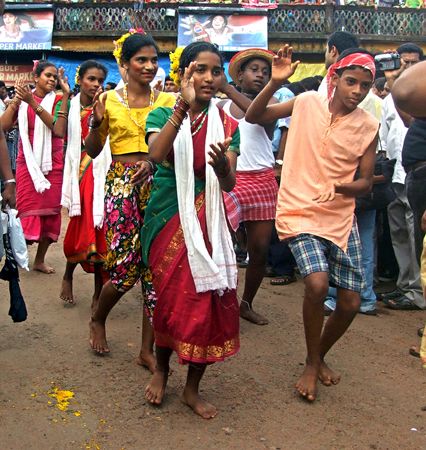 Goa:
Goan men do not have any traditional dresses as such. The Catholic and non-Catholic men of Goa wear Western attire in daily life and catholic men wear three-piece suits during weddings. The fishermen of Goa wear colorful shirts and half pants.
The traditional dresses of the women of Goa vary. The Catholic women wear gowns and dresses. During weddings, they wear white bridal gowns. Non-Catholic women wear different clothing- Pano Bhaju, Nauwadi, Kashti. Pano Bhaju is Goa's traditional dress that is a nine-yard saree. It is available in various designs and is inspired by Persian, Chinese, and Central Asian dresses. The Nauwadi saree is worn in the dhoti style. The saree is 9-yard in length and is studded with stones. Kashti is another traditional dress of Goa made from loincloth and is worn with kunbi pallu, a tied knot in the pleated saree.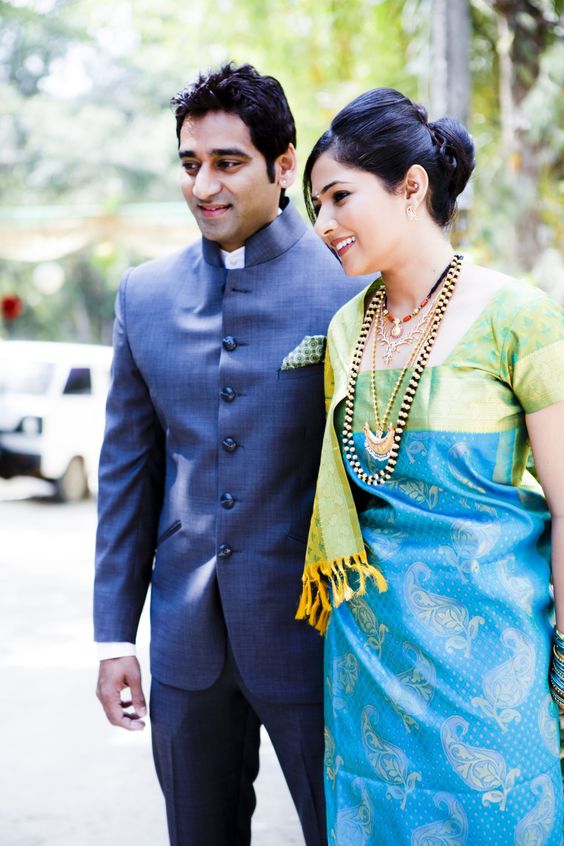 Karnataka:
Men wear a kurta and lungi. Kurta is a knee-length shirt, and lungi is a long piece of cloth wrapped and knotted around the waist. The look is completed with an Angavastram, a piece of cloth draped over one shoulder.
Women of Karnataka wear silk sarees woven by weavers with precision. Kanjeevaram silk sarees are the most famous in Karnataka. The demand for these sarees is wide all over India. The saree is dyed in cream, red, pink, and white, and decorated with zari work from pure silk thread and thin silver wire gilded with pure gold. Mysore silk sarees are made from pure gold zari work. Traditional Bangalore silk sarees are found in blue, red, yellow, maroon, orange, and green.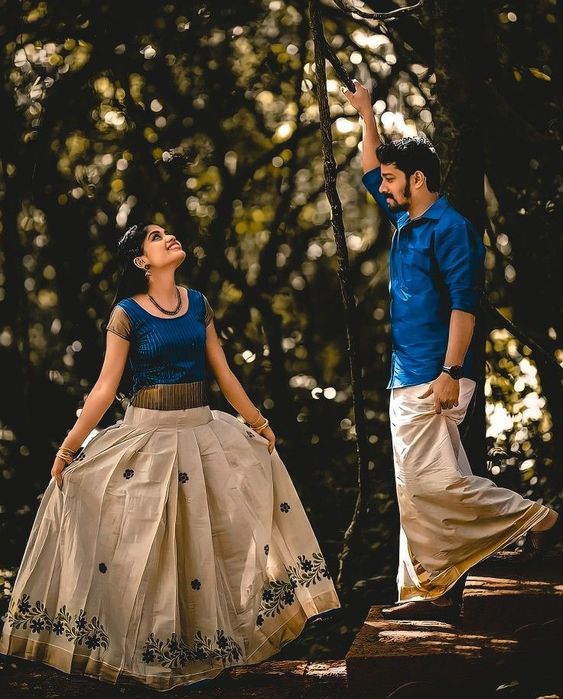 Tamil Nadu:
Men in Tamil Nadu are usually seen dressed in lungi with a shirt and angavastra. The traditional lungi originated in the South and is an item worn around the thighs like a sarong. Dhoti is a long lungi but with additional material pulled between the legs. Over the shoulder, men hang angavastram, a piece of cloth.
Women wear sarees in Tamil Nadu. Young girls wear full-length short blouses and shawls, this style of wear is called Pavada, also known as half saree. Now, most of the women in cities are wearing salwar kameez, jeans, and pants.
The Kanchipuram sarees of Tamil Nadu are highly in demand throughout India. The sarees are 5-6 yards long. The unmarried young Brahmin girls wear Pavada, a combination of a long skirt, a short blouse, and a shawl (davani).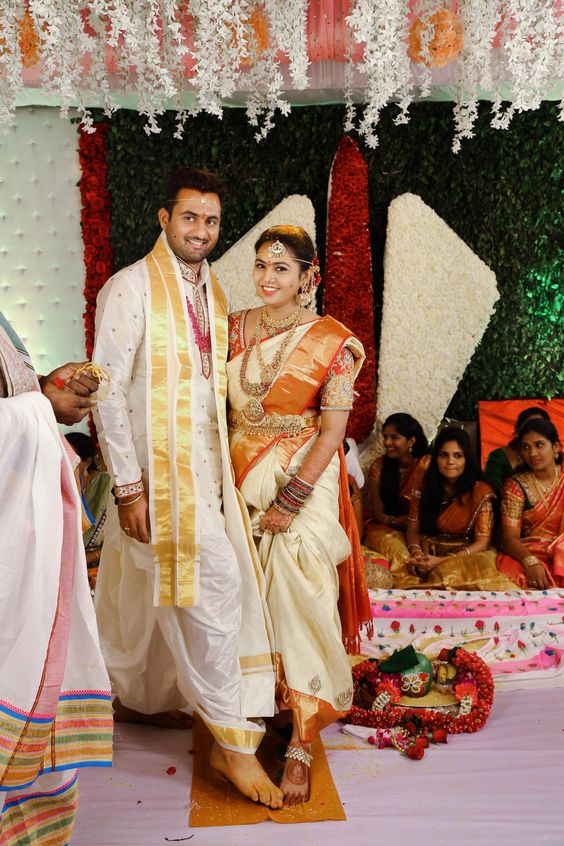 Andhra Pradesh:
Andhra Pradesh is a southern state of India. It shares its borders with Telangana, Chhattisgarh, and Odisha along the Bay of Bengal in the east. Called the "Rice Bowl of India" because they grow rice in large quantities.
Andhra Pradesh is considered the Kohinoor of India for its famous weaving and dying industry. The traditional dress of Andhra Pradesh is similar to that of other southern Indian states. Men usually wear a kurta and dhoti, while a lungi is also worn with a kurta. Muslim men wear pajamas with a kurta instead of a dhoti.
Women of Andhra Pradesh wear saree and they wear the original handloom saree, young women wear langada won. For wedding ceremonies, the bride wears a silk saree, which is red in color and decorated with gold decorations, while the groom wears a kurta and full-length dhoti.
The women wear silk saree. Different regions of Andhra Pradesh are famous for their sarees- Pochampally, Dharmavaram, Uppada, Gadwal, Mangalgiri, Narayanpet, and Venkatagiri. The young girls wear Langa-Voni, a dress consisting of a skirt, blouse, and dupatta.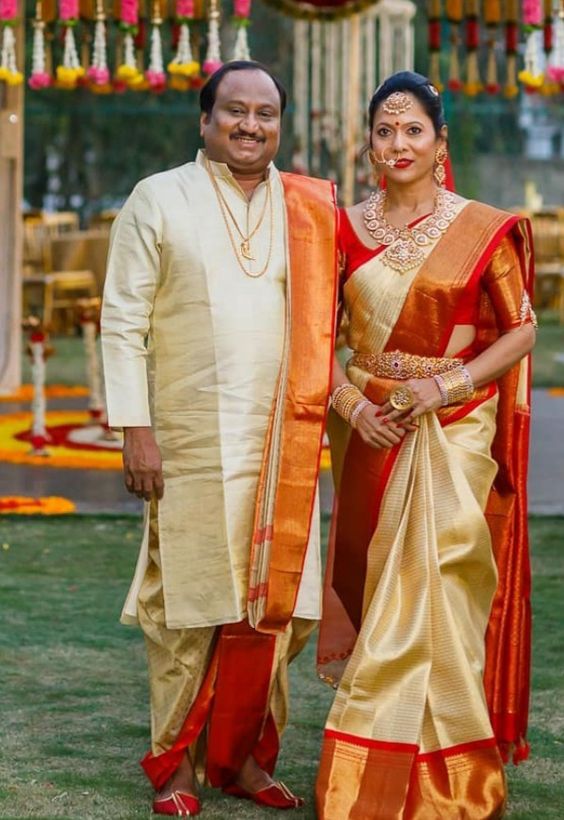 Telangana
The men wear Pancha (dhoti), kurta and Hyderabad sherwani. Pancha is widely popular in Telangana, particularly among the Brahmins living in the state. Everyone wears a kurta. The color of their clothes is light, and the fabric is soft, usually cotton.
The traditional dresses of women are Langa Voni, salwar kameez, and churidar. Langa Voni is made of cotton and lavish material. Most of the clothes are made of cotton fabric because of the climate there.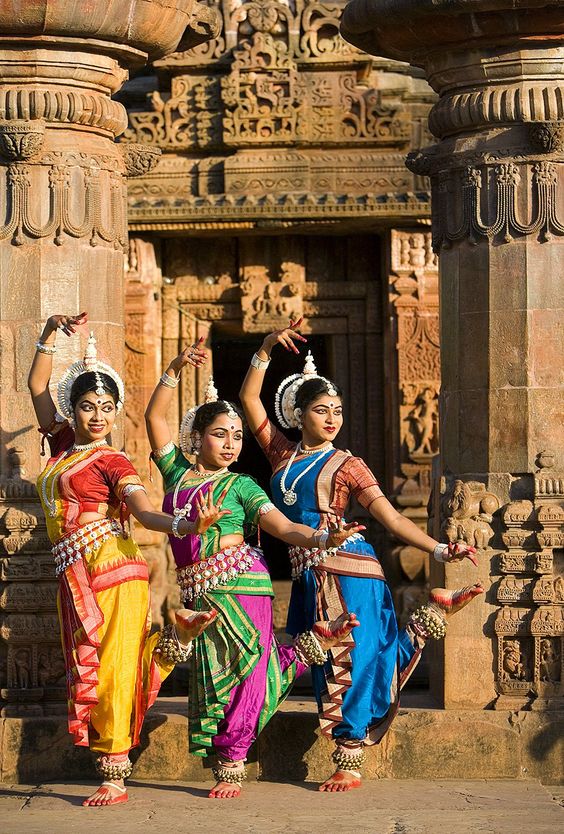 Odisha
The men of Odisha wear white cotton dhoti with a border that is a brick color. On top of the dhoti, men wear a Shambhalpuri kurta, a short variation of the kurta.
Women wear the Shambhalpuri saree, a handwoven saree dyed before the weaving process. Women also wear Khandua saree, a saree associated with Odisha's aesthetics and culture. Lord Jagannath, the most worshipped deity of Odisha, is decorated with the Khandua saree.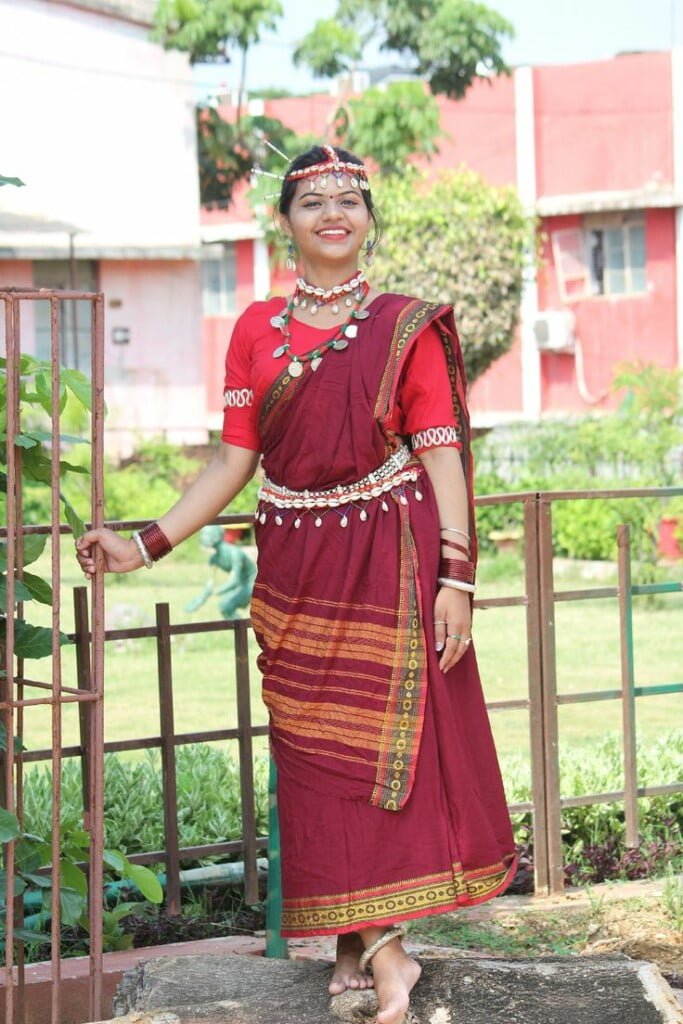 Chhattisgarh:
Tribal men wear sleeveless jackets over dhoti made from linen, cotton, or jute. They also adorn cotton headgear to protect them from the sunlight.
Tribal women wear brightly colored sarees made from different printing techniques. Their saree is lugda, worn in Kachhora style, and the blouse is called polkha. The length of the saree varies from knee to ankle length. The sarees are made from linen silk or cotton. They use various techniques to dye their saree; the most famous is tie & dye, also called batik. Maheshwari, Chanderi silk, Odisha silk, and batik sarees are popular among tribal women.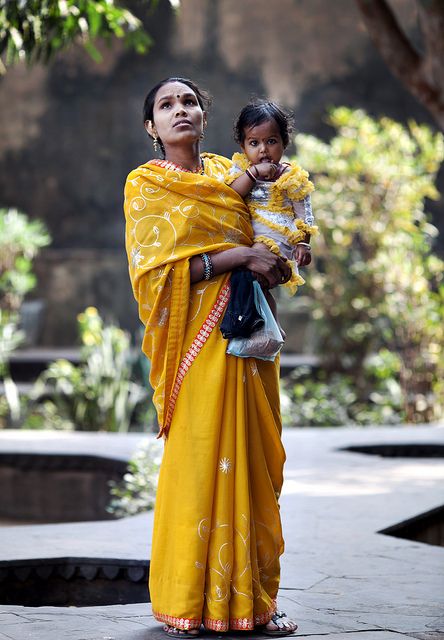 Madhya Pradesh:
Men wear white, cotton dhoti with salukas, and waist-length, short-sleeved, collarless cotton shirts. Over the salukas, men wear jackets called mirzai or bandi. On the head, men adorn brightly-colored safa (turban).
The traditional dresses of women are ghagra choli and bandhej sarees. Ghagra and choli are worn with odhani or lugra. Apart from Bandhani, Maheshwari and Chanderi sarees are also famous in the region.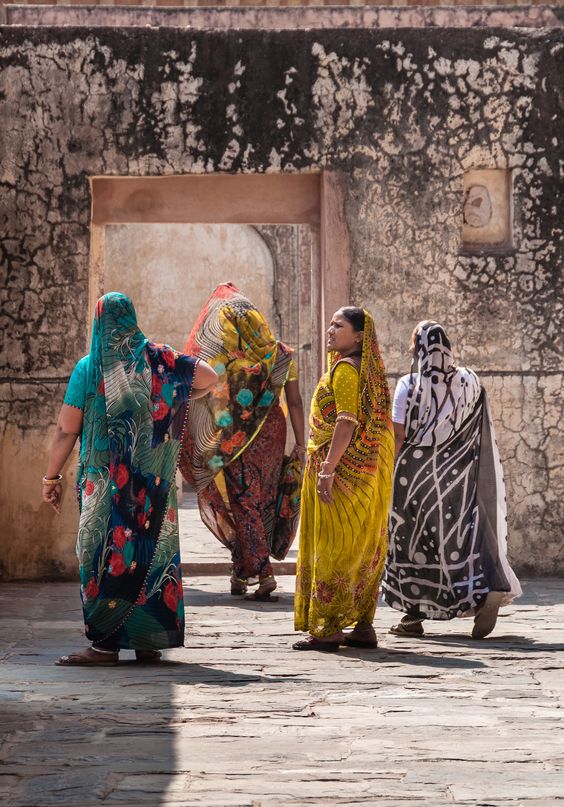 Uttar Pradesh:
Men wear loose collarless cotton kurta embroidered with chikan design. They pair the kurta with a pajama or dhoti which is loose-fitting, giving them comfort and ease to move around.
Women wear silk Benarasi sarees or cotton chikankari sarees. Benarasi sarees are decorated with brocade work. Lucknow is famous for brocade and chikan work. Women also wear ghagra choli with odhani and salwar kameez.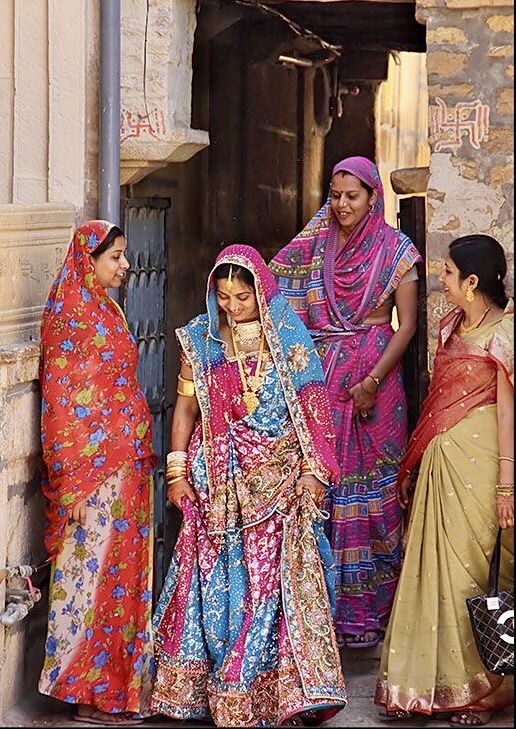 Bihar:
Bihar men wear mirjai (kurta) with dhoti or lungi worn by men of all ages. Kurta is made of cotton or silk and designed using motifs, embroidery, or chikan work.
Women wear sarees that are available in various colors, fabrics, and designs. The Tussar silk saree is a famous variant of saree from Bihar. In Bihar, women usually wear a saree with the end of the saree in the front, called the 'seedha aanchal' style.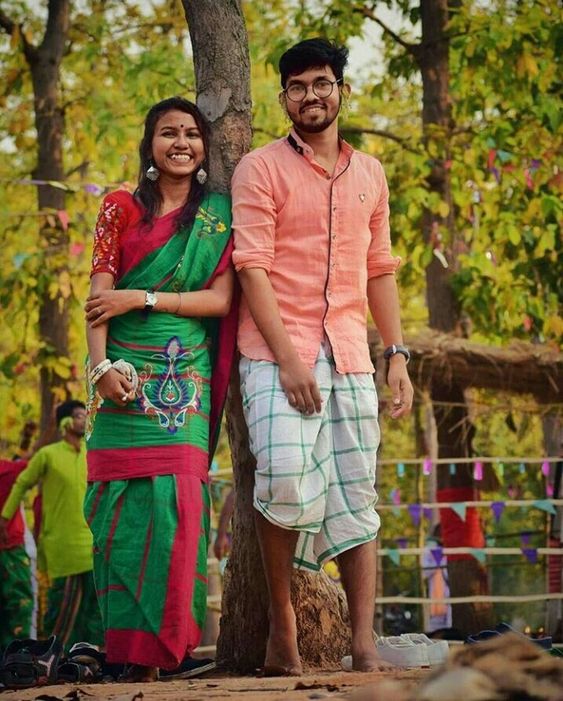 Jharkhand:
Men wear dhoti with innerwear. On top of that, they tie red and white scarves on their waist. This attire is called Bhagwan. Tribal men also adorn kurta pyjama or dhoti.
The traditional dress of women is a saree and blouse. The saree is knee-length and colorful. Tussar silk sarees are quite famous. The tribal women wear Parhan and Panchi. Panchi is the blouse, and Parhan is the upper garment wrapped around the body like a saree. The women of the Munda and Oraon tribes wear cotton sarees with borders and patterns without a blouse.
Recommended Articles:- 
Cultural Dress Of India In Every States
was last modified:
November 30th, 2023
by