Complete Guide to Traditional Indian Bridal Look
/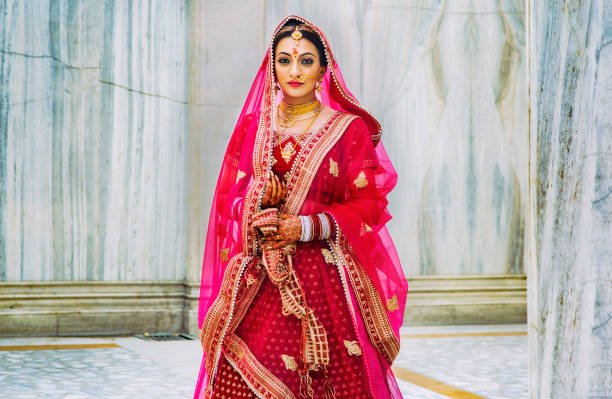 The wedding is perhaps the biggest day in the life of a girl. It is the day when all her dreams of getting married and settling into a beautiful after-marriage life come true.
Traditionally Indian Bridal look has been out of this world. The beautiful wearing outfits were created by craftsmen trained in weaving and handcrafts. They were out of this world. Thus, the Indian wedding dresses that are traditionally in bridal wear today are a mix of traditional and modern bridal wear that may be Indian-inspired. Because of its amazing look, it looks hot in any season and now you can find designs that look beautiful during the summer season as well as winter.
This is the day girls love to look breathtakingly gorgeous and take every necessary step to make them stand apart in the crowded halls of the wedding reception.
For an Indian bride, marriage is the day when she finally gets connected to her roots and traditions. It is the day when she finally gets to dress in traditional Indian bridal look attire.
 Given below is the complete guide to the traditional Indian bridal look.
Every bride should start making preparation beforehand and not wait until the last minute. Last-minute surprises always tend to ruin the day.
To have a glowing and radiant look, one should start to cleanse their face on a daily routine 3-4 times a day. Use moisturizer to protect the face from dust.
Avoid oiliness or dryness and make sure your face does not have any irritation or reddish tinge.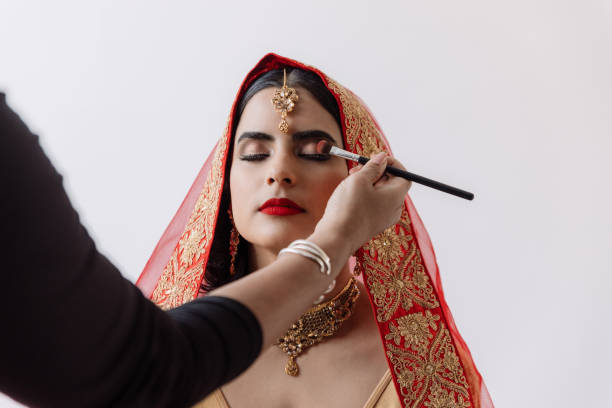 Traditional Indian Bridal Makeup:
No other bridal or cosmetic trend can match the distinctive and fascinating skill of Indian bridal makeup. They call for approaches that, upon closer examination, appear to be highly difficult and specialized but are fact fairly straightforward. See below how to do traditional Indian bridal makeup.
Clean Both Face and Neck:
Use a cleansing cream to wash your face and get rid of any oil. Don't forget to wash your neck as it is an extension of the face. Use the chilled water to wash your face and hydrate it.
Remove Dark Circles:
The wedding is definitely a big occasion and with that comes lots of work and stress.
So getting some dark circles under your eyes is obvious. Apply a concealer to hide any dark circles. With that apply a bit of primer which will help the foundation to hold on.
Choosing The Right Foundation:
The first step in ensuring that your makeup blends in and appears soft are choosing the proper foundation, which necessitates knowledge of both your skin tone and undertone. There are foundation colors and textures that accommodate both cool and warm undertones. The easiest way to determine if silver or gold jewelry suits you better is to try it on. If you look better wearing silver jewelry, your undertones are chilly.
You have warm undertones if your jewelry is made of gold. You can choose the foundation that best matches your skin tone based on these! For instance, choosing a dark color that complements your skin tone and an undertone that matches your jewelry would be part of South Indian bridal makeup for dark skin. It's crucial to follow the foundation application instructions precisely to prevent nightmare needless patching. The best technique, in my opinion, to ensure that your foundation has compacted and blended is to use Olay's BB Foundation Cream and sponges.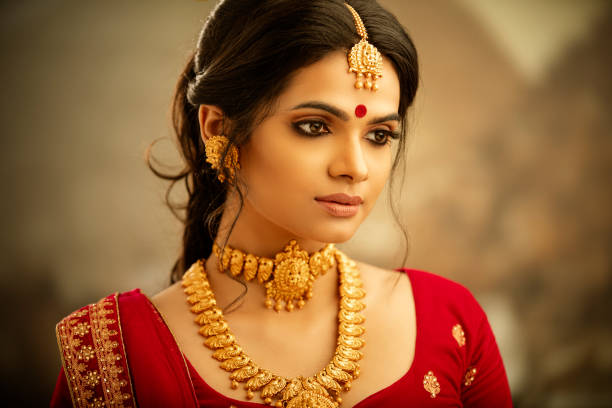 Apply and Set The Foundation:
Apply the foundation evenly on the skin. The foundation should be totally devoid of water or sweat.
Use puff powder to set the foundation perfectly. Use the powder evenly and see that there is no heavy makeup.
Forehead Decoration:
For a traditional Indian bridal look, the decoration on the forehead with sandalwood paste is absolutely necessary.
For this, an expert should always be hired and it should be always kept in mind that sandalwood paste does not mix up with the makeup and eradicate it.
Brushes:
Because so much makeup is used at weddings, it's crucial to ensure that it all blends in flawlessly! This is why it's crucial to choose the ideal brushes, which are the fat, round-tipped brushes. These ensure that there are no spots and that the makeup mixes in flawlessly.
Eye Makeup:
The eyes are the most expressive part of our body. For a traditional Indian bridal look, the makeup of the eyes should be top-notch.
Eye makeup is different for different communities. For Bengalis, the eyes should have dark and strong eyeliner and kajal and eye shadow. For Gujaratis, the eye makeup is soft as they mainly focus on the attire more than makeup.
Shape the eyebrows perfectly. Apply the mascara on the upper eyelids to have the perfect eye makeup.
Lip Makeup:
Use the lip color pencil to perfectly make the outline of the lips. Then use a deeper shade of lipstick. Finish it off with a perfect lip gloss. Another popular beauty trend is red lipstick in various colors. The lips are highlighted with dark, stunning colors in almost every bridal makeup look. And keep in mind! There will be a tonne of photos shot! Outline your lips slightly outside of their real outline, then fill it in completely with color to emphasize your lips. Your lips will appear fuller and bigger as a result!
Applying The Blush:
With all the makeup perfectly in place, apply the blush on the cheeks to give the bride a look of blushing on her favorite day. Glowy cheeks have taken the place of the fake rosy cheeks of the past. A layer of Olay's Anti-Aging Foundation Cream can be placed over lustrous cream-colored blush to get this universally popular makeup look. Make sure the blush is well-blended!
Contouring:
Another method that has lately gained popularity is this one for bridal makeup since it enhances every kind of makeup flawlessly. Making sure you choose the proper highlighter and bronzer color is a crucial contouring technique. When choosing your hues, keep in mind your skin tone and undertones. Pink and beige in lighter shades are best for people with fairer complexion tones. However, bronze and dark brown are preferable for people with darker skin tones. Of course, the greatest test is to check if you look well wearing the highlighter before the wedding.
Strobing:
While contouring is great for the actual wedding and the bold and heavy look it implies, strobing, which uses just highlighter, is a lighter, more radiant look, perfect for reception time. Even Bengali bridal makeup for the reception is light, unlike wedding makeup.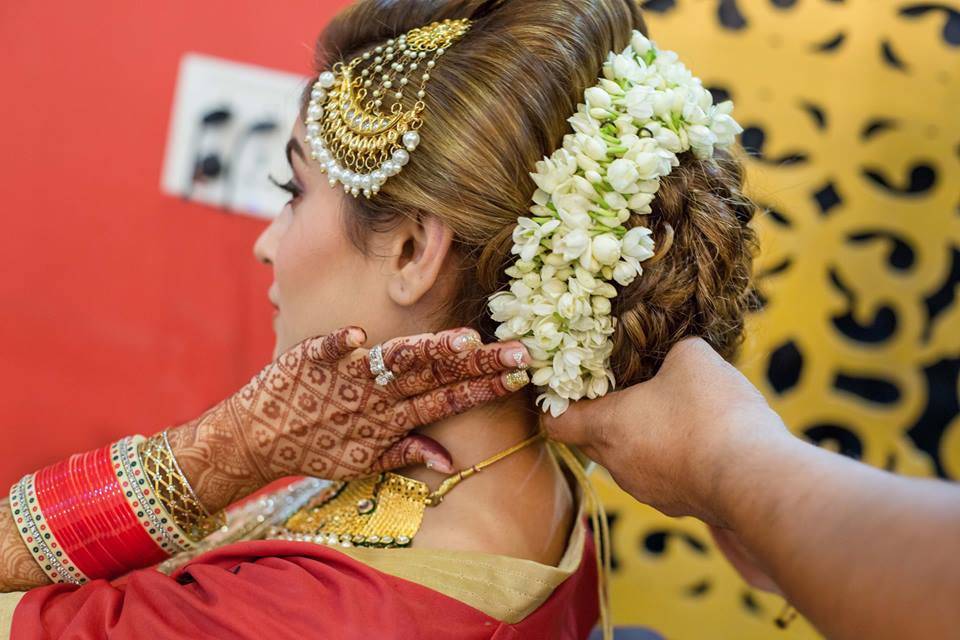 Traditional Indian Bridal Hairdo:
With the perfect makeup, it is also important to take care of the hairdo. The styling of the hair should be according to the bride's tradition and the way it goes with the attire.
The most traditional Indian bridal hairdo is a simple and sleek bun. This is perfect to go under a Ghungat as it keeps the hair in place. The additional decorations with flower garlands make it look extra pretty.
For a South Indian bride, it is important to make a long braid. A two-piece floral accessory is made on the top of the hair like a crown and goes around the braid's base as it goes down the length.
Traditional Indian Bridal Attire and Jewelry:
To go along with all the makeup and hairdo, the perfect attire should be chosen for the traditional Indian bridal look.
Most Bengali brides prefer to drape themselves with a red, maroon, or pink Banarasi silk saree. The additional work with gold zari or but a adds perfection to the beautiful outfit.
To top all the look heavy necklaces are worn with designs of peacocks, butterflies, drops, semi-circles with pearls, etc. The customary bangles called nowa, ruli, etc. are also worn. Various gold chains and gold rings add to the beauty.
For a South Indian bride, Kanjivaram silk or South Indian silk sarees with temple jewelry are preferred. The brides belt their sarees with gold waistbands.
For a North Indian bride, the right lehengas with golden embroidery are preferred. To top all the looks, Mehendi is applied on the hands and a red colored dye is painted on the feet of all Indian brides.
Recommended Articles:-
Complete Guide to Traditional Indian Bridal Look
was last modified:
July 5th, 2023
by