4 Essential Facts You Must Know About Recurring Deposits
/
Securing savings is probably one of the most essential aspects of one's financial lifestyle and selecting the best platform is an important decision. Fortunately, we have no lesser options to choose from, which if have been, can be a reason for distress itself. Some people wish to opt for high-risk investments which besides bringing higher risks, offer greater returns. Whereas some look for more regular and safer investments. One such safe option is the recurring deposit. These facilities are offered by almost every bank and they instil in you a uniform habit of saving.
What Is A Recurring Deposit
A recurring deposit is a term deposit which is offered by the bank. It allows people to deposit a fixed amount of their income every month and earn interest on the same. This interest rate offered in recurring deposits is only a bit lower that what offered in fixed deposits. If you do not have enough money to open a fixed deposit account, you can easily opt for a recurring deposit, which is not much less than the former in terms of returns and brings other exclusive benefits as well. The minimum maturity period in the case of recurring deposits is six months and the maximum is ten years. To get a better idea of the returns, one can use a recurring deposit calculator which immensely helps in determining the practical monetary benefits and exact figures.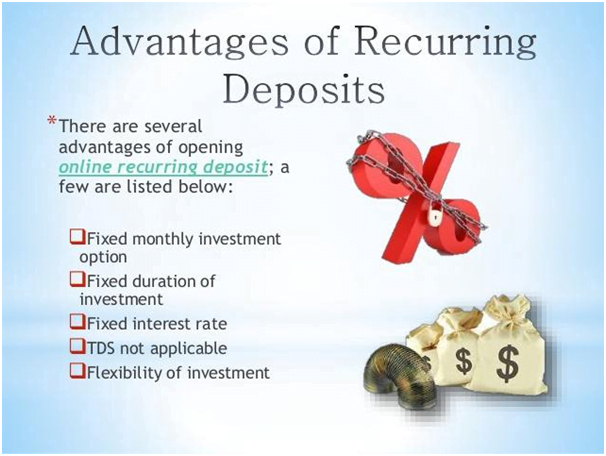 RD is risk-free yet gives you bigger returns. Source: Slideshare
Essential Facts Revolving Around Recurring Deposits
Features of Recurring Deposits
The minimum amount of deposit varies from bank to bank. In some special cases it can be as less as 100 INR.
The depositor will not be able to withdraw a part of the sum or the whole money before its maturity period. In case one goes forward for it, the account will be closed, and some penalty levied on the total sum.
It is an option suited for people with a steady source of income as failure to pay the recurring amount would lead to a faulty record and the bank may close your account as well as charge a penalty for the same.
If you have a recurring deposit, you can avail of the benefit of taking a loan against it. Your deposit can be used as collateral by the bank.
The interest rates being a little less than that of a fixed deposit is higher than any other savings scheme that comes under banks.
An additional interest rate is provided to senior citizens. This additional rate varies anywhere from 0.25% to 0.75%.
Interest Rates
As previously stated, the interest offered by RD is higher than any other saving schemes. The rate roughly ranges from 3.5% to 8% depending upon the bank. A recurring deposit calculator will aid you in the calculation of returns that the deposit will yield post maturity. The returns are the highest in a medium-term deposit (which is anywhere more than a year extending up to five years). The interest also depends on the amount of deposited money as well as the maturity period.
In case of a premature withdrawal, the interest will be calculated based on the tenure that is completed. The calculations can be done easily with the help of a recurring deposit calculator. Thus, choosing a high rate of interest with a minimal fee on premature withdrawal is a wise thing to do.
Taxation
The interest that your recurring deposit yields are taxable. It will be added to your overall income as 'income from other sources'. The tax on your RD will be calculated according to the slab rate. Refer to a recurring deposit calculator online to precisely calculate your interest and tax deductions. The recurring deposit calculator can also be used to calculate the post-tax maturity return.
For example, if you are in the tax bracket of 30%, your interest would be taxed at this rate. The TDS will be deducted in case the interest exceeds INR 10,000. Also, if the PAN information is not provided, the tax deducted at source shall be 20%.
Eligibility Criteria And Documents Required
Eligibility criteria: Any individual who is above the age of 10 and has a proper identity proof is eligible to open a recurring deposit account. In the case of a minor, he/she must be tied up with an adult, who is a natural or legal guardian. Besides individuals, any government organization, corporate, company, commercial organization or proprietorship can also apply for a recurring deposit account.
Documents required:
An application form obtained from the bank.
Passport size recent photographs of the applicant.
Identity proof and address proof.
These proofs must be valid and government recognized such as Aadhaar or voter id card.
KYC documents, in case the bank asks you to produce it.
RD is a great way to save money without excuses for anyone. The necessity of paying the recurring amount compels one to curb unnecessary expenses. Hurry up and invest in this safe monthly scheme to ensure fixed returns. Use a recurring deposit calculator to calculate the interest, taxes and other relevant information.
4 Essential Facts You Must Know About Recurring Deposits
was last modified:
August 5th, 2020
by