Food Processing Industry In India | Know In Details
/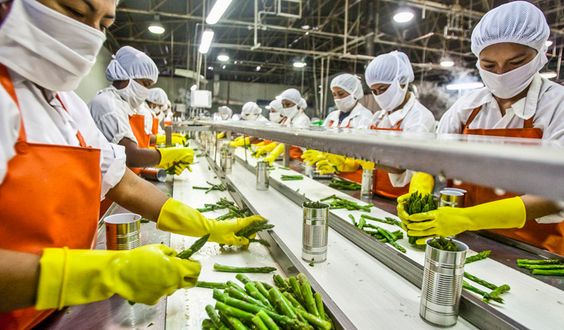 India is a country with variations in food culture, spices, and non-agricultural commodities. Food processing industry in India accounts for 13% of India's exports. Since 1998, India is at the top of the world's largest milk-producing countries. India is the third-largest cashew producer in the world and the second-largest producer of cereals, fruits, and vegetables. 11.6% of human resources have got employment from this sector.
India is known as the major producer of agricultural by-products in the world. During 2017-18, India was the largest milk-producing country in the world with a production of 176.4 million tons. Additionally, India's share in global fish production was around 6.3 percent, with 10.07 million metric tons of fish production. India is the third and second-largest country in the fisheries and aquaculture sector with a vast coastline of 8129 km.
NOTE:

India ranks first in the production of agricultural commodities and second only after China in food production
Food Processing Industry in India
The NITI Aayog recently said in a discussion paper titled 'Influence of structural changes in India's rural economy on employment and growth', that farmers should be directly linked to factories for a good value of crop and food processing to increase employment in rural areas.
This is the most appropriate field. According to the report, during the last four decades, the country's rural economy has grown seven times, but employment has not doubled. In such a situation, an improvement in the Food Processing Industry in India can generate a large amount of employment in agriculture and allied sectors.
Important Facts Related To Food Processing Industry In India:
APEDA and Export Inspection Council (EIC) provide necessary technical information and financial support through the Infrastructure Development Scheme of Quality Development for the promotion of agricultural exports.
Currently, 70 percent of the country's total agricultural and processed food exports go to developing countries in Western Asia, Africa, and South America.
The food processing industry, which contributes 9 percent to the GDP, is currently growing at a rate of 13.5 percent. Whereas in the year 2003-04, this sector was growing at a rate of only 6.5 percent
In view of the growing imbalance between population and resources and the growing need for food and livelihood, the initiative to establish agricultural export areas is being termed as a wise time investment.
There is a lot of demand abroad for food grains, cakes, fruits, and vegetables. India's agricultural exports are expected to double in the next five years.
India is a country of more than 1.10 billion consumers. There is a domestic market of 1000 million consumers in the food processing sector, most of which has not been exploited.
According to APEDA, agricultural exports are expected to increase from the US $ 9 billion to the US $ 18 billion by 2014.
Recommended Articles :- 
Aryabhatta Inventions: The Greatest Mathematician
How To Identify Plastic Rice From Real Rice
Top 10 States Which Are Largest Producer Of Rice In India
Largest Stadium In India | Largest Cricket Stadium
Month-Wise List Of World Important Days
# Top 10 Richest Person In India | Richest People Of India
Sectors under Food Processing In India
There are five sectors under food processing industry in India.
Dairy sector
Fruit and vegetable processing
Grain processing
Meat-fish and poultry processing and
Consumer goods such as packaged food and beverages
According to the latest data, India is the largest milk producer in the world. India also the largest producer of buffalo meat, domesticated animals and coarse grains. The second-largest producer of fruits and vegetables in the world.
India also ranks second in the world in total food production. But the level of processing of food production in India became very low compared to other countries of the world.
India accounts for only 2.2 percent of the total exports of food processed goods in the world. The export of food processed goods from India has also declined significantly in quantitative terms. In 2012, this export had worth $ 36.53 billion, which had decreased to $ 29.19 billion in 2016, while imports of such products have increased continuously.
In fact, the food processing sector is an important component of both the agriculture and manufacturing sectors. Due to food processing, maximum use of products had ensured and the processed goods reach the consumers in a safe and clean condition. The food processing industry in India provides more employment than many other capital-based industries.
NOTE:

Only 10 percent of the total food production in the country gets processed, while 40 percent of the crop gets destroyed every year.
Food Processing Industry In India | Know In Details
was last modified:
October 9th, 2019
by