Marriage Breaker Nirav Modi : Nirav Modi's Fake Diamond Ring Worth Rs 1.4 cr Broke Canadian Couple's Engagement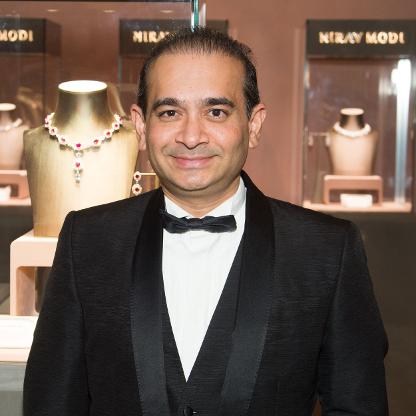 You probably would've heard the name of Nirav Modi unless you're living under a rock. Diamond merchant Nirav Modi was involved in a ₹14,356.84 crore fraud at  Punjab National Bank of India, and he is currently in the United Kingdom, seeking political asylum. But this time he is alleged with something new. He is alleged by a Canadian national called Paul Alfonso for selling him two fake diamond rings worth US$200,000 (Rs 1.4 crore).
According to Paul Alfonso, he had no clue about Modi who was involved in a ₹14,356.84 crore fraud at India's Punjab National Bank. He bought two rings from Nirav Modi in Hong Kong to propose to his girlfriend. Their celebration was turned into a disaster after the duo found out that the diamonds were fake.
 Paul Alfonso first met Nirav Modi in 2012 at the centennial celebrations for the Beverly Hills Hotel. A few Months later, they met again Malibu and end up dined together. Alfonso, who is the chief executive of a payment processing company, said that he saw Nirav as an older brother figure and felt a "good connection" with him.
In this April, Alfonso sent Nirav asking for a "special" engagement ring at the budget of US$100,000 to propose marriage to his girlfriend. Nirav responded and offered him with a "perfect" 3.2-carat round brilliant diamond cut, D colour, VVS1 – a high-quality grade and colourless stone at US $120,000.  After Alfonso approved the offer Nirav wrote him -"Thank you for thinking of me when you're making one of the most meaningful purchases in any man's life,".
Alfonso's girlfriend expressed interest in another design, which promotes him to order a second ring – a 2.5 carat oval diamond for US$80,000 from Nirav.
After Alfonso made payment for both rings to a Hong Kong account, he receives the ring by Modi's assistant Ari in June.
The couple wanted to be insured the ring, but Modi kept on delaying to send the insurance certificates to them. Then Alfonso's fiancee took the ring to the appraiser and they found that the diamonds were fake. Soon after this incident, they broke up and his fiancee broke up with Alfonso slipped into depression.
Alfonso has filed an unlimited civil lawsuit against Modi with the Superior Court of California, suing him for $ 4.2 million. That includes $ 200,000 for the value of the rings, $ 1 million for punitive damages and another $ 3 million for emotional distress, and suffering. The hearing of this case is scheduled for January 2019.
Marriage Breaker Nirav Modi : Nirav Modi's Fake Diamond Ring Worth Rs 1.4 cr Broke Canadian Couple's Engagement
was last modified:
October 8th, 2018
by