How To Choose the Best Battery for Inverter? A Few Simple Steps?
/
Before buying the best battery for inverter, you should keep certain things in mind. Since every other household has a different type of requirement when it comes to their power requirements, you first need to analyse your unique requirements before investing in an inverter battery so that you can get an unhindered and efficient power backup.  
The battery is as important as the inverter since it's where all the power is stored to be delivered when required. Therefore, the quality of the battery is very important to ensure that you get maximum service life with minimum maintenance requirements. So, if you are thinking of getting the best battery for inverter, then keep an eye out for these points!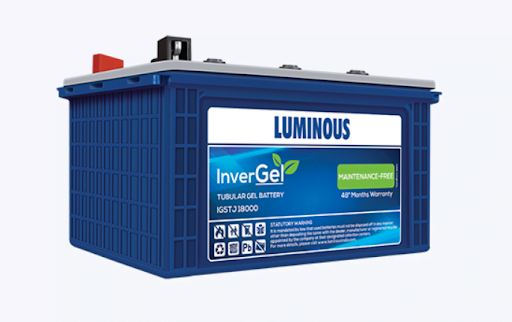 Examine Battery Capacity:
The capacity of the battery is one of the most important parameters that decides whether the battery would be capable of handling the required load or not. Let's give you an example, if you only want to run a few lights, fans, and a television set, then a 150Ah battery would work perfectly; however, that won't be the case if you want to run heavy-duty appliances like air-conditioners, refrigerators, etc. For that, you would need more power. So, go for a higher-powered battery unit in that case. 
Choosing the Type of battery
While choosing the best battery for inverter, you need to understand the options at your disposal. It will help you access the battery and choose a battery type that best meets your requirements.
Tubular battery:

The tubular battery is mighty, compared to other batteries. Thus, these batteries are claimed to have the longest- lasting performance. Moreover, they are perfectly capable of running high-powered devices such as AC's, TV's, pumps, etc. and are designed to offer exceptional backup during both frequent short outages, as well as frequent long outages. But their bulkier and heavier size might be a hindrance for people who have less space to dedicate to a battery at home. 

Flat-plate battery:

The flat plate battery is an excellent choice for people who have less space to keep an inverter battery due to its smaller size footprint but want a high-performing battery. These are deal for areas with frequent short power cuts and are much more affordable than tubular batteries. 

GEL battery:

The GEL battery is a maintenance-free lead acid battery that is highly efficient and environment friendly. Since it comes in a sealed casing, it doesn't release any harmful fumes or gases making them perfect for homes with kids and the elderly. Moreover, they don't require any maintenance. However, since they are relatively new in the market, they are costly.  
Analyse the warranty 
You always look out for the product's warranty when you buy anything new. Similarly, one should look for the warranty period while investing in a battery for your inverter. Usually, the service life of a high-quality battery can be up to 5+ years and should show on the warranty period as well. 
Check the life cycle of the battery
When you buy a battery, make sure you check the lifecycle of the battery. The amount of charge and recharge it will go through before needing a replacement. The best battery for the inverter must be able to go through an extensive period of charge and discharge cycles without any performance dip throughout its lifecycle. 
Inspect the after-sales services
The after-sales services are one of the most important factors when buying a battery for your inverter. Always go for brands that offer exceptional after-sales services that will keep the inverter battery in top shape.
Luminous is one such brand that has one of the widest networks of service centres in the country, and round-the-clock customer service that guarantees immediate resolution of your queries and access to genuine spare parts and trained personnel whenever required. 
Whether it is the battery's power capacity or the life cycle of the battery, keeping a watch on all aspects is important before investing in a battery, to get the value out of your investment. So, the next time you are looking to replace your aging battery with a new one, we hope you will be able to make an informed purchase as a consumer using the points we have discussed so far.
How To Choose the Best Battery for Inverter? A Few Simple Steps?
was last modified:
September 22nd, 2022
by