Adorn Your Wrists with Dainty Bracelets this Season
Women have long been fond of bracelets. Despite the availability of numerous alternative metals and precious stones for bracelets, a diamond bracelet for ladies immediately stands out. It's difficult to resist the temptation of these sparkling jewels, which are exquisitely exhibited in your hand. Bracelets are the best accessory because it enhances and beautifies your appearance.
Bracelets are the newest trend in women's jewellery. Women's bracelets are an instant hit on the market throughout the holiday season for a variety of amazing reasons, including the huge assortment on sale and the bracelets' appealing aesthetics.
In terms of jewellery, bracelets are always a fantastic option. Bracelets are so much fun since you can see them while you're wearing them, which makes them appreciated in a completely different way than necklaces. Bracelets have historically been worn by both sexes and are great for stacking and layering. Indian women give their wrist jewellery a lot of consideration.
It stands for prosperity and good fortune. The classic bangle has been replaced with modern bangles, which are more useful as accessories because most women today work and lead hectic lifestyles. In the Victorian era, hanging lockets and charm bracelets with engraved charms were very fashionable.
Here is the list of wrist bracelets that can help you flaunt your sense of fashion with grace and beauty.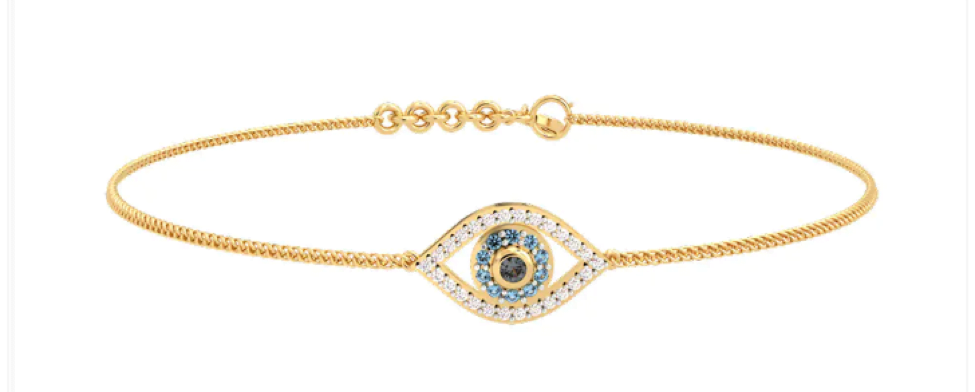 14kt Yellow Gold Diamond Bracelet
Your jewellery introduces or puts forward your personality. As you enter your social circle, put on this straightforward yet beautiful bracelet from the Mia deconstruct collection. It has a simple appearance and is adorned with magnificent diamonds. As you wear a stylish outfit with this bracelet, let your personal style express who you are.
Triple Triquetra Yellow Gold Bracelet
This beautiful bracelet was inspired by the Celtic sign for the lands of Land, Sea, and Sky! Three exquisitely wrought trinity knots are spaced a centimetre apart on this shining, slender gold bracelet. You're in paradise if you wear this gorgeous bracelet with matching earrings!
Yellow Gold and Sun Bracelet
For centuries, the sun and moon have served as the centre of numerous religious beliefs. So why not show off your spiritual side this time around by wearing one of these bracelets? Women's gold bracelets go well with both a kurta and a simple white t-shirt. This contemporary yellow gold bangle is a great starting point for outfit styling. It looks elegant and opulent when worn with a black evening gown with an off-the-shoulder neckline and eye-catching gold stud earrings.
Rose Gold Capricorn Birthstone Bracelet
The bracelet is embellished with magnificent stars that softly dangle from it and form the constellation of Capricorn. Because Capricorns are among the signs of the zodiac that are thought to be the most steadfast, intense red is the colour that best suits them. It stands for fervour, love, sturdiness, and force. This stunning bracelet in rose gold with a deep crimson stone is made for the ambitious and practical Capricorn. These bracelets are enhanced in appeal and style by the addition of the red stone. 
Rose Gold Seaside Harmony Bracelet
The uncomplicated aesthetic is prevalent today. When it comes down to our sense of style in terms of clothing or jewellery, minimalism is the most common approach. Bracelet is made of rose gold with a cable chain, circular patterns, and a shell-shaped pendant with diamonds hanging from it. Wear this bracelet with shorts and a t-shirt or a floral dress.
Flaunt your Fashion
Bracelets are one of the first pieces of jewellery ever made, having been worn by women since they were little girls. How simple and stylish bangles may be at the same time is their best feature. You may dramatically change how you appear and constantly express happiness by simply adding a simple gold bracelet to your attire. Mia by Tanishq offers exquisite jewellery that is painstakingly and lovingly crafted by our designers.
Adorn Your Wrists with Dainty Bracelets this Season
was last modified:
August 19th, 2022
by