Are you thinking of solo traveling? Check out these places for solo trips from Bangalore
/
Life all alone on the road is exhilarating and fun. You don't know what you'll experience next and you get to call the shots too! The opportunity to travel solo may not always exist, so when it does exist, you should take advantage of it.
What's more? If Bangalore is your first point, you have plenty of options for weekend trips from Bangalore.
Here are the top destinations from Bangalore for the solo traveler:
Channapatna
Channapatna is a town widely reputed for its wooden artifacts and bangles. For solo riders who love exploring offbeat destinations, this place should be on top of their bucket list.
At Channapatna, one can get the first-hand experience of how wooden toys are manufactured by visiting one of the numerous toy factories. You can also purchase traditional Indian toys and bangles, which are well priced.
       Distance from Bangalore: Channapatna is a short 60-kilometer drive from the city.
       Best Time to Visit: Perfect any time of the year
Lepakshi
Located in the state of Andhra Pradesh, this destination is blessed with magnificent temples whose architecture resembles those found in the town of Hampi.
It is wise to drive down to Lepakshi from Bangalore, but you can use public transport as well. Hail a bus to Hindupur and from there, board a taxi or an auto-rickshaw. If you adore shopping for traditional Indian outfits, there are a few famous establishments here that sell stunning saris.
Distance from Bangalore: Lepakshi is a 125-kilometer drive from Bangalore.
Best time to Visit

: During the months of November to February, when the weather is cool and pleasant.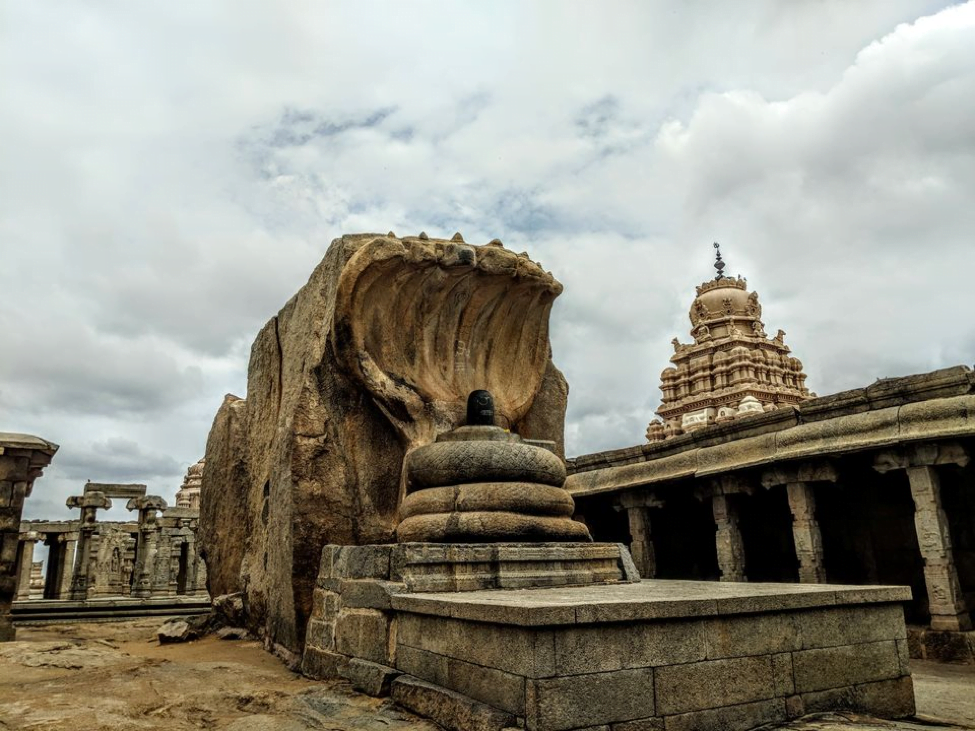 Source: Tripto
Mysore
Mysore is the best place for solo travelers who appreciate architecture. A visit to the infamous Mysore Palace is an absolute must for any tourist venturing into the city of Mysore. If you get tired of visiting the historic sites here, you can go shopping in Mysore. Mysore is home to plenty of local establishments that sell intricate silk clothing and exquisite sandalwood products.
The Devaraja Market on Sayyaji Rao Road is a popular shopping market to purchase local goods and artifacts in Mysore. And, if you are interested in health and fitness, there are abundant yoga and Ayurveda centers in the heart of Mysore that offers traditional Ayurvedic medicine.
       Distance from Bangalore: Mysore is 150 kilometers from Bangalore
       Best time to Visit: Since it's such a short ride away, you could visit throughout the year.
Grover Zampa Vineyards
If you are traveling solo and looking to take a unique trip over the course of the weekend, visiting a vineyard is a great choice. Just in the outskirts of Bangalore, lies the Grover Zampa Vineyards in the famous area of Nandi Hills.
Here, you can go on a vineyard tour and learn the various processes involved in winemaking. You can also book a vino tasting session followed by a hearty lunch.
One can also stay at resorts near Bangalore such as Discovery Village, which is ideal for getting away from the bustle of the metropolis.
       Distance from Bangalore: Grover Zampa Vineyards is located about 45 km from Bangalore.
       Best Time to Visit: Throughout the year, though it can get pretty hot in the summer.
Coorg
If you are a solo explorer looking to witness nature and indulge in some thrilling adventure sports, there's no better destination for you to visit than Coorg. From river rafting to hiking up the waterfalls Coorg has a lot of options for you to take part in and explore. In Coorg, you will find a couple of mountains that are well suited for trekking. One such mountain is Kotebetta.
This hill offers resplendent views of coffee plantations from high altitudes and is bountiful with natural beauty. If you visit here on the weekends, you will find many trekkers who come to make the climb up to the mountain and reach the summit. Besides trekking, another adventure activity that one can take part in, in Coorg is rafting along the Kaveri river. The cost of white water rafting in Coorg depends on the level of difficulty/course that you pick.
       Distance from Bangalore: Coorg is around 260 kilometers away from the city.
       Best time to Visit: With a superb climate all year long, there is no one time that is perfect to visit Coorg.
Solo traveling is the best way to regain that zest for life. So, the next time you're thinking of going on a solo trip from the city of Bangalore, make sure you check out the places we have curated for you. Once you're there, don't forget to share your experiences with us. We would love to hear the fun stories from you in the comments section below.
Are you thinking of solo traveling? Check out these places for solo trips from Bangalore
was last modified:
June 15th, 2020
by