Show off your earrings with these tips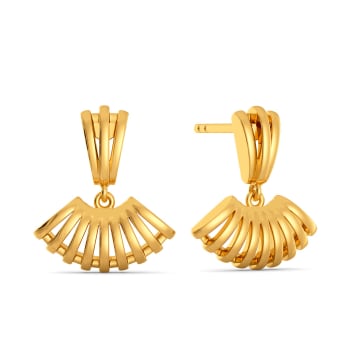 Earrings are the pair of beautiful jewelry that has the power to captivate the onlooker and can add a sense of style and feminism to whatever a woman is wearing. Your entire look can be twisted by this simple yet intricate piece of jewelry when carried thoughtfully according to the ensemble and the occasion. No matter how small or big, jhumkas or studs, they can keep your style game on whether you are going for a party or a 9 to 5 job. Earrings can dress up a simple pantsuit, a tunic, and jeans to bridal lehengas, pretty gowns, and flowy anarkalis.
With so many earrings embracing your wardrobe, it is quite tickling to show off your favorite fashion accessory in front of your friends and peers may it be the diamond studs, silver jhumkas, colorful feathers, or many earring designs in gold. Here are a few tips to flaunt the beautiful collection of earrings that you own
Understand your face cut
The shape of your face plays an important role in defining your earrings. The right pair can flatter your look to get you a good amount of attention and can make you stand out in the crowd. If you have an oval-shaped face, you don't need to think much while grabbing any kind of earrings as every style suits the oval face cut, especially, triangular-ones or a simple stud. If you have a round face, then drop earrings can make a world of difference to the appearance as it will take all the attention towards your chin. A heart-shaped face looks good when they flaunt a chandelier or teardrop earrings paired with simple gold chain designs to give an elegant look. For square and narrow faces, round drops or hoops or oval drop earrings look perfect.
Pick up the right pair matching your bone structure
Women having small, fine bone structure should opt for delicate designs in gold that complement their beauty. Large or heavy styled earrings can look bulky with finer features and shape. Women with medium bone structure will look good in both the delicate as well as oversized style of earrings. Women with more solid bone structure should prefer the bigger and more opulent style of earrings.
Wear them according to the venue and occasion
It is important to wear earrings that are appropriate to the venue and occasion. If you are going to the office, a simple stud or a slight drop earring would look perfect as the heavy ones can leave you feeling uncomfortable all day. For a special occasion like a party or wedding, let the bling shine on with the dangling chandelier earrings, heavy hoops, and drop cluster earrings.
Don't deviate much from your style
Whether you have a tomboy or a feminine personality, it is important to feel comfortable while looking stylish and gorgeous. Always choose earrings that suit your personality as you can find so many options these days whether it is in gold earrings or gold chain designs. If you choose to wear heavy clothing, it's better to go with muted colors and soft tones and if you have a dramatic personality, then geometric earrings will be the right choice for you.
Complement Your Complexion
It is as important to choose the earrings matching your complexion as you choose your clothes to wear because accessories can make or break any appearance. Undertones like peach, sky blue, and golden pairs look extravagant and lavish on fair complexions while loud and bold colors like black, blue, and green look great on the wheatish complexion.
Show off your earrings with these tips
was last modified:
February 18th, 2021
by